Post written by Alex Ballou, Marketing Assistant. 
National Book Lovers Day
Fort Collins Museum of Discovery interviewed local children's books illustrator and current FCMoD volunteer, Cathy Morrison, in celebration of National Book Lovers Day! The following interview has been edited for length and clarity.
Tell us a little bit about yourself and your connection to FCMoD?
I met my husband soon after moving to Colorado in the early 80s. Even back then we had a dream of buying land and building some sort of energy efficient cabin. It took another 30 years or so, but eventually we did make that happen. Now we live about thirty miles northwest of Fort Collins in an area called Glacier View Meadows. Our cabin is passive solar and constructed of SIPs (Structural Insulated Panels). I remember driving past the museum as it was under construction, wondering: "What's that big, weird shaped building?" I did not have much connection with Fort Collins at the time, so I began to read about the museum online. In the past I'd volunteered at my kids' schools and at the Museum of Contemporary Art in Denver so I was excited to learn that the museum was recruiting volunteers. I just happened to be at the right place at the right time! On the opening day of the museum I helped in the museum gift shop. Since then I've been mostly involved with the education team, greeting school groups, being a docent for the school tours in Heritage Courtyard's "Journey through Time" program and volunteering for Storytime in the Dome.
Who or what inspired you to first become an illustrator?
In college I earned a double major in fine arts and education. After student teaching I knew it wasn't for me. One day I heard about an opening at K&H Productions, an animation studio in Dallas, Texas and I applied. I was fortunate to walk into the interview with my college art portfolio and walk out with a job! I started out as an in-betweener then moved into traditional cell animation and audio lip syncing for characters. I worked for the studio for about five years. The studio manager suggested I freelance on the side – she knew I wanted to be an independent artist and tell stories. My freelance business began expanding and I ended up quitting that job and moving to Colorado. – I figured if it didn't work out I could always get another job. The freelance illustration grew into a boutique graphic design and illustration studio, Big Chief Graphics, in Denver. This lasted for about ten years until I had two kids, scaled back the business and began working from home. This is when I discovered picture books and realized this was what I wanted to do next.
Your illustrations are so detailed! What are your favorite elements or scenes to illustrate and why?
I really like animals, nature, and conservationism. When I started to volunteer at FCMoD, a staff member from the museum was chatting with me about her love for Fort Collins' short grass prairie. This was a real spark for me! This was around the same time I began illustrating nature related children's books for Arbordale Press and Dawn Publishing. I enjoy gaining inspiration from my natural surroundings.
Roughly how long does it take to illustrate a book? How does the process ebb and flow?
"Roughly" is a good way to describe it! It usually takes about 6-8 months to illustrate a 32 page picture book because I am always working on multiple projects, rarely focusing on just one book. It's typical to work on 3-5 projects at a time. It's a feast or famine sort of life and I do wish the process were a bit smoother. When I do have down time I like to write.
The process of illustrating a picture book is not what most people imagine, there is no collaboration between the illustrator and author. The publisher acquires the manuscript from the writer. Next they match up the story with an illustrator who they believe can best bring that book to life. The author does get input throughout the process, but there's no communication with the illustrator. The publisher is the middleman between the illustrator and author. I have a couple of publishers that I work with a lot. Since they know my style and trust me, they let me do my own process in creating the illustrations. I mainly work on creative non-fiction picture books, these are books that read as a story while being based on facts. I create the thumbnail rough sketches, then place those into in an InDesign layout along with the text so I can be sure to leave enough room for copy. There are multiple editing rounds as the manuscript is being adapted so are the illustrations. I fine tune as the process continues and finally everything comes together.
What are the qualities in yourself that you believe made you a successful illustrator?
I feel like I still have that ability to think like a kid and see things through their eyes. I like a challenge and juggling projects, staying on deadline, being creative and collaborating with editors and art directors long distance can be challenging at times. I try to treat my clients the way I want to be treated and that usually works well. When a kiddo picks up one of my books I hope they enjoy it as well as learn something new. I love how curious and smart these kids are today.
On the flip side – what is the hardest thing to describe about being an illustrator?
Illustrating is a very competitive industry and there are so many amazing illustrators out there. Trends in art styles are always changing so you need to be able to adapt to keep up. It can be tough financially without a steady paycheck. For most book contracts the illustrator gets an advance to illustrate the book, then additional royalties once the book is published. Also, juggling several deadlines with a variety of clients can be stressful. And many publishers expect the book creators to participate in marketing once the book is published. That might involve school visits, presenting at conferences, book store launches, etc. So the process of illustrating a book is a very solitary sort of life style, then you have to put on your public persona and go out in the world and engage, not always an easy transition. Illustrating is as much a "give" as it is a "take" sort of career.
"I enjoy gaining inspiration from my natural surroundings."
What role would you like to see museums like FCMoD play in helping prepare young people for a career in the arts?
A career in the arts doesn't limit one to being a traditional artist. Having a background and focus in the arts should help a person to think creatively which really frees a person to do almost anything they choose. I love the museum's sensory based educational approach to learning, their focus on STEAM, Science, Technology, Engineering, the Arts and Mathematics. I love how open the folks at the museum are to experimenting with new ideas. I feel like this passion rubs off on the kids who come to the museum. And the museum engages kids at such a young age to enjoy learning, playing and experimenting. There's a strong correlation between science and the arts and how they enhance each other. Albert Einstein said "The greatest scientists are artists as well." Leonardo da Vinci was best known as an artist, but his interests in music, invention, and science are what really made him a renaissance man. This is how I envision the museum. It creates a safe, welcoming environment where young people can make art, music, play, experiment and create their own world.
For example, Storytime in the Dome, is a very interactive format to get kids and their families involved in books and stories. Ben, the Dome Manager recreates the picture books to fit on the huge dome screen, animates page turns, even has added some sound effects. There's always a live narrator to engage the kids with the book. Then afterwards we head to the Learning Lab to create a related craft. I love how unique and tactile this experience is. When I volunteer I see a lot of the same families coming again and again. If I had a do-over in life I'm reconsider being an illustrator and maybe be an employee at the museum.
You've posted such amazing photos on your Instagram, @CathyMorrisonIllustrates, of the views from your studio. How does your studio space impact or enhance your creative process?
Through the years I've had a variety of studio spaces. I converted an extra bedroom into a home office, subleased office space from various advertising and marketing agencies in Denver, shared co-working space with other artists, photographers and animators in the Old Colorado Institute of Art Building in the Golden Triangle. So when we built our cabin I had a good idea what I wanted – tall ceilings, good lighting, nothing fancy, a comfortable work space that feels good. And now, my studio is just right. I have a great view of the mountain and plains, which is always changing and inspiring. I like being here every day.
Do you have a favorite artist or piece of art? What is it about it that you like?
I do not have one favorite artist. One thing I love to do locally is go to the RiNo District in Denver and see the murals and street art. I lived near that neighborhood over thirty years ago when it was a very unsafe area. Now most alleyways are a mixture of graffiti and street art and you can safely walk around engulfed in the atmosphere. I love watching the artists creating their murals too. If you take a blank wall and add art to it – it becomes a whole new universe. The RiNo District has lifted the area up and is an attraction for all ages, all backgrounds, all means. Art brings the community together. You can just walk around outside and be amazed and inspired.
If you could give advice to someone interested in illustrating children's books, what would you say to them?
Keep at it, but do not expect it to be easy. It's great to do a job that you love, but it is also hard work with long hours. Joining the Society of Children's Books Writers and Illustrators (SCBWI.org) is worthwhile. They have national and regional conferences, monthly events, plus you'll connect with publishers, editors, agents and like-minded folks in your field. If you keep at it, you will be successful.
What is your favorite part about volunteering with FCMoD?
My favorite part about volunteering with FCMoD are the people. The staff is great as well as the other volunteers and the folks who visit the museum. It's a fun, informal environment for learning and volunteering. I always enjoy it and come away energized.
And, lastly, what can we keep an eye out for next from Cathy Morrison Illustrates? Are there any books or projects you are working on that you can share with us?
I have two books coming out next year. One in the spring with Dawn Publishing is called What's This Tail Saying? This book talks about how animals communicate through their tails. For example, a skunk warns of danger by raising its tail before spraying, whereas a rattle snake makes a rattle sound before attacking. You need to pay attention to those tails! Then in the fall I will have another book coming out with a new publisher – this is a book that a friend and I created and submitted to several agents and editors. Schiffer Publishing in Pennsylvania acquired it. The working title is The Tiny Giant – it is a story of an oak seed becoming a forest.
"Art brings [a] community together."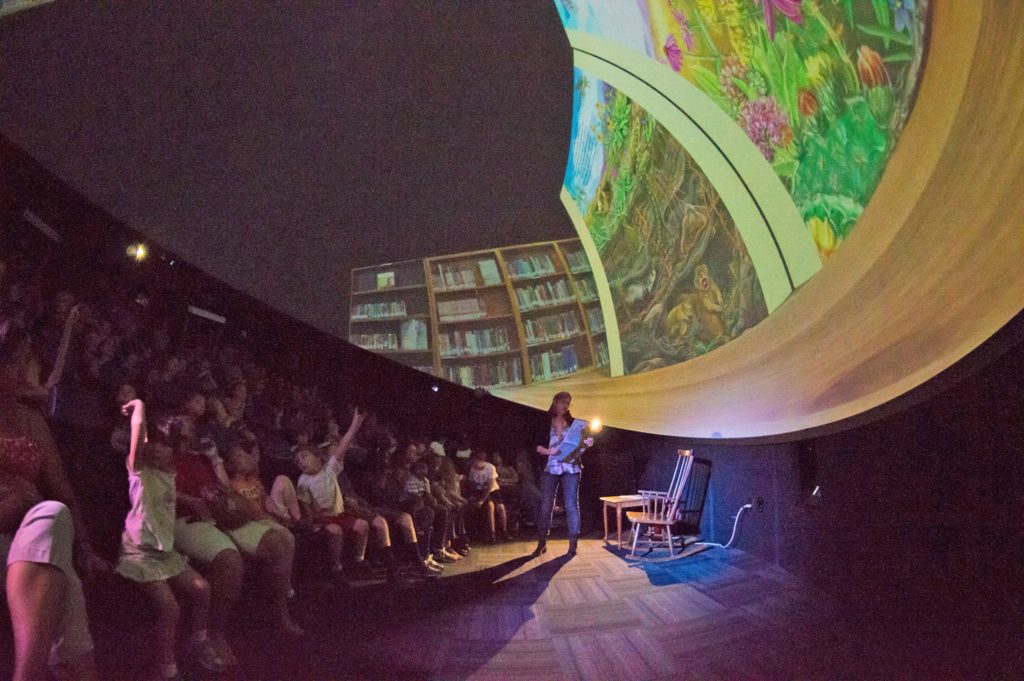 Thank you to Cathy for her time and for sharing her stories at Storytime in the Dome!
To find out more about Cathy's books, and to hear more from a local illustrator, check out her blog at: https://cathymorrison.blogspot.com/. And don't forget to stop by The Museum Store during your next visit to purchase one of Cathy's illustrated books!
Continue Reading