After some time away, volunteering is back and more important than ever at Fort Collins Museum of Discovery. We even have a new volunteer and internship coordinator, Jessica. Let's check in with Jessica to find more about the program, her vision, and how you can take part in our volunteering efforts. As for internships, those are coming back soon too, and we will certainly keep our community posted as that all happens.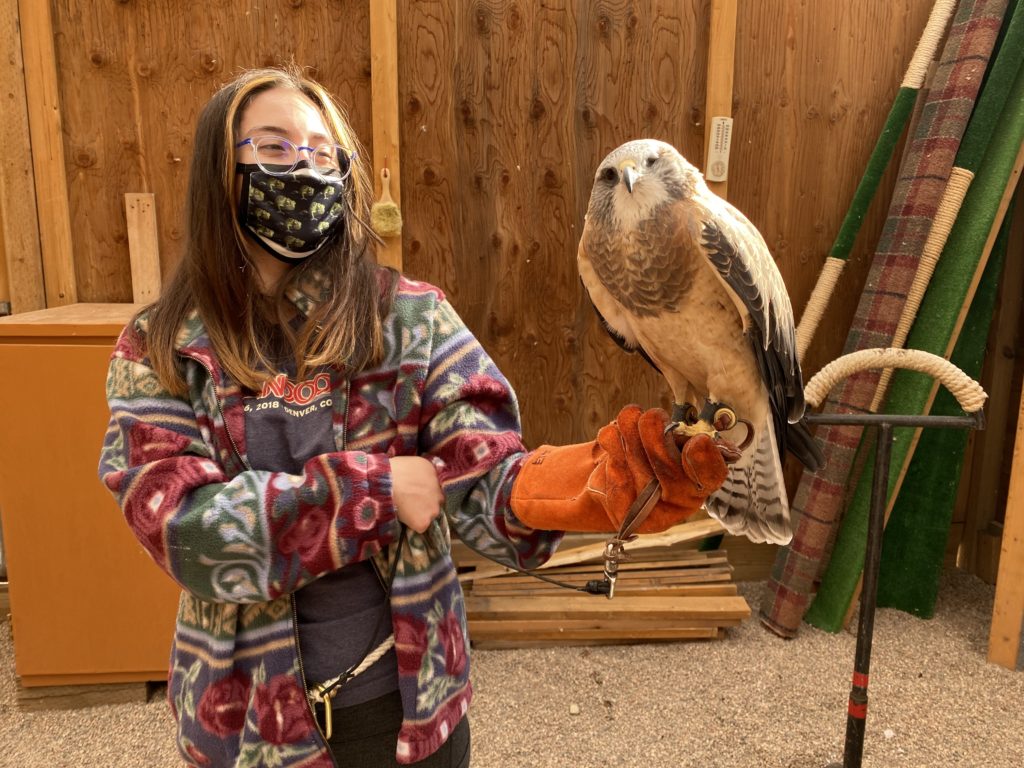 Welcome to Fort Collins Museum of Discovery! What's been the best thing so far?
Jessica: The best thing about working at FCMoD is the people—it's a joy to work with such a community-minded group. From our wonderful staff to our dedicated volunteers, providing a meaningful experience and space to learn for the Northern Colorado community has always been the priority. It means a lot to work within an organization that shares a lot of my own goals and values. I started out as a volunteer myself, and it's been so fun to step into different spaces and roles to see the full spectrum of all that FCMoD achieves.
You join us as FCMoD's volunteer and internship coordinator. It's great to have volunteering back. What does volunteerism mean to you?
To me, volunteerism is a chance to not only bring your own unique skills, experience, and knowledge to an organization, but also utilizing the opportunity to develop and grow personally. There's something really powerful about bringing all our respective strengths and backgrounds together to work towards the same goal.
For me personally (and I bet for a lot of others as well), volunteering also gives me the space to work directly within my passions and interests. My background is in ecosystem science and sustainability, and that's still where much of my energy goes to. Volunteerism has allowed me to keep my personal values regarding wildlife conservation and sustainability active and relevant within other aspects of my life.
I hear you volunteer at a raptor program. Cool! What's your favorite part about being a volunteer there?
My favorite part about volunteering with the Rocky Mountain Raptor Program (RMRP) is getting to share my love of wildlife and conservation with the public, especially young learners. Handling raptors is definitely cool, but nothing fills me with more joy than being able to present our beautiful Educational Ambassador birds and educate people not only about the animals, but also what they can do to be stewards of the natural world and help the RMRP achieve its mission.
As an experienced volunteer, what advice do you have for FCMoD volunteers?
Try your best to build community and relationships with fellow volunteers and staff. Not only does this help individuals feel supported and have fun during their service, it also creates a strong foundation for FCMoD's mission and vision to be accomplished. It's my belief that a strong sense of community is the basis for an effective volunteer program, and volunteering gives us a space to meet people with similar interests, values, and goals. At the very least, I hope all FCMoD volunteers feel comfortable in coming to me with any questions, concerns, or ideas. I hope to make it clear to any FCMoD volunteer or intern that I am here as their resource and support, and their experience within FCMoD is my priority.
What are some of the goals that you have with volunteers in our community?
I hope to offer a volunteer program that not only helps FCMoD achieve its mission and vision, but also helps propel volunteers through experience and leadership opportunities. One of my main goals is to offer a program where non-traditional students can fulfill school credit through experience-based service learning, rather than in a traditional classroom setting. I strive to provide opportunities for students who might struggle in a traditional classroom but might also thrive within direct experiences. I hope to create and foster a volunteer program that can highlight the important life skills that can be learned while serving as a volunteer, and later applied in other areas of life.
Where can folks go to become a volunteer?
Volunteering with FCMoD starts by going to our website and submitting an application. I'm always happy to answer questions or give more insight on this process for anyone who is curious—my "door" is always open.

Are there any volunteer events we can look forward to?
We are hoping to have a special Volunteer Orientation scheduled during the summer. Since COVID put a big pause on our volunteer program and other FCMoD activities, this orientation will be a chance for returning and new volunteers to meet new staff, learn of the changes that have occurred at FCMoD, and hopefully start building a community together. April is Volunteer Appreciation Month, so I'm hoping to plan a Volunteer Appreciation party during April to show our gratitude for all our wonderful volunteers.
As far as upcoming volunteer opportunities, there are a couple of exciting new traveling exhibits that FCMoD will be hosting through the summer and fall of 2022. I'm hoping to use these exhibitions as a chance to bring new volunteers into the program especially since they tie into climate change. I feel FCMoD and its volunteers can use these exhibitions to have a powerful impact and help our community feel like they can take real steps towards tackling the issue of climate change.
When will the internship program be coming back and where can folks go for information?
Unfortunately, our internship program will have to wait to resume until 2023. For those wanting more information, all are welcome to email me to learn more.
So, what's your favorite museum exhibition?
My favorite permanent exhibit is our Animal Encounters zone. I got my start at FCMoD volunteering in that department, and the Animal Encounters husbandry team does a wonderful job of keeping our live animals happy and healthy. Animal care and education is a personal passion of mine, and I love seeing the educational programming that the Animal Encounters husbandry team provides for the public.
My favorite traveling exhibit that has come through so far is Mind Matters. Mental health is such an important topic that impacts everyone, and I loved being a part of providing a safe space for these kinds of conversations to foster. Mental health is hard to talk about, and even harder to do something about. It was so important for me to see not only the conversations that guests and their families started because of the exhibit, but also the resources FCMoD and our collaborative partners were able to provide.
What does it mean to work at a place as cool as FCMoD?
Working at FCMoD is cool because we are in a unique position to cater to the needs of not only our local community, but especially to those within the community who are generally underrepresented. It's also always fun working in a place where I can learn something new every day. From our exhibits to our staff to our volunteers, each piece of information and unique perspective brings about a different dynamic every single day.
I love science, so being in a place that fosters not only scientific curiosity but also how to apply a scientific background to history and culture makes every day exciting and different.
Thank you Jessica!
Continue Reading