Post written by Alex Ballou, Marketing Assistant.
Pedal and Paddle on into FCMoD this Earth Day!
Earth Day is an annual event celebrated on April 22. Worldwide, various events are held to show support for the protection of the environment. Earth Day was first celebrated in 1970. Today, Earth Day is celebrated in over 190 countries. Earth Day is a day dedicated the environment and finding sustainable solutions. Today, FCMoD would like to share some of the ways that our community can be rewarded for being environmental stewards.
Sustainable modes of transportation
Transportation alone is responsible for about 25% of energy related CO2 emissions and about 15% of greenhouse gas emissions worldwide. Because of this, cycling is one of the most effective ways for individuals to minimize their role in adding to global warming. Bikes have an important role to play as sustainable transportation. Cycling creates a healthier planet, and for each mile that someone bikes instead of driving, they can keep one pound of greenhouse gas emissions from entering the atmosphere. Other modes of sustainable transportation include carpooling or use of public transportation. Those who carpool or bus significantly lower CO2 transport emissions. Walking is another mode of healthy and sustainable transportation. According to the CDC, if the destination you are walking to is within 1 mile you are more likely to walk to that destination, however, if the destination is between 3-4 miles there is still a likelihood of choosing walking as the main mode of transportation. FCMoD would like to encourage all guests, if physically possible, to consider choosing a sustainable mode of transportation to the museum.
To show our commitment, we have recently partnered with the Pace app in order to create a friendly and welcoming environment for those who would like to bike to the museum.
Our commitment to you
Since parking at FCMoD is limited and we strive to create a sustainable environment, if you bike, tube, walk, or take public transportation to get to FCMoD, we'll offer 10% off your total admission for the day. We value the environment and we want to reward those who take great initiative to be environmental stewards.
Learn more about cycling
Next month, FCMoD will host Discovery Distilled: Beers & Bikes. This is a fun way to learn about biking paths and tune-ups. This is a great opportunity to chat with bike experts around town, drink some beers, learn something new, and have fun exploring the museum after hours. What's more Fort Collins than beers and bikes? To find out more about the upcoming Discovery Distilled visit: fcmod.org/discoverydistilled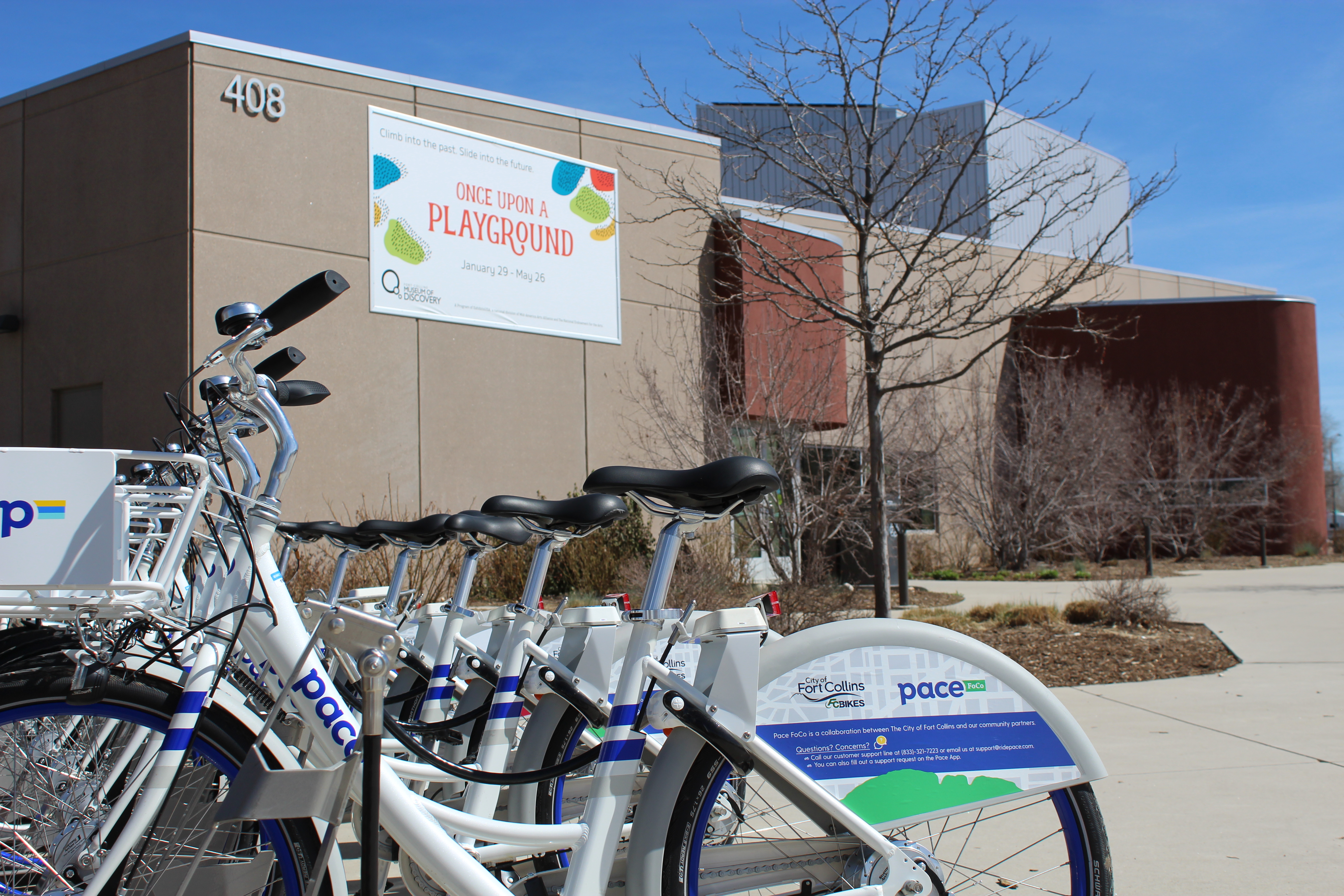 Interested in Biking to the Museum?
Here are the quick steps to use the pace app:
Find your Pace (Use the Pace app to find a nearby bike)
Make quick stops (Tap "Hold bike" in the app and lock up in order to have the bike waiting for you)
Lock and end ride (Close the built-in lock and secure with the cable. Tap "End Ride" in the app)
To find out more information about Pace click here https://ridepace.com/fortcollins/
Fort Collins community strides to be bike friendly. Fort Collins also offers an array of other bike share options. This Earth Day, let's pedal our way around town to show our support of the environment.
Continue Reading