FoCoMX at the museum
FoCoMX has been a landmark event for the Colorado music scene for 13 years, and the weekend of April 22 and 23 is the return of FoCoMX for the first time since 2019. With stages throughout the city, Fort Collins will be a music mecca for all things live and local, and we are pleased to host the most music of the weekend. Fort Collins Museum of Discovery will have three stages of music going throughout the festival, starting with a stellar Live From the Dome lineup on Friday, followed by an entire day and evening of music on Saturday.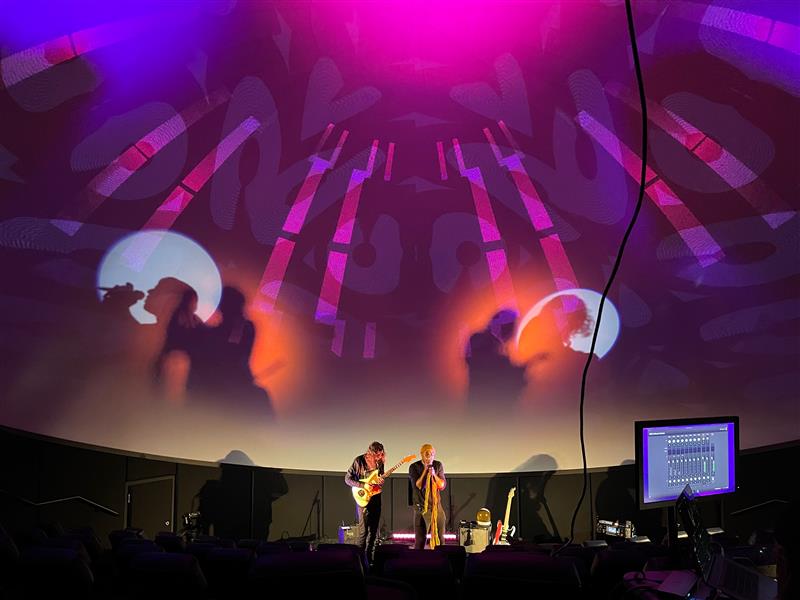 Here is rundown of all the happenings at Fort Collins Museum of Discovery during FoCoMX. We will have our entire team on board to help craft a wonderful experience for you!
Friday, April 22: we are hosting five bands at the OtterBox Digital Dome Theater.
Saturday, April 23: five more bands from the Dome, plus six hours of music at our Big Backyard Youth Stage and at an Artist Discovery Stage at Woodward Special Exhibition Gallery.
On site: Blast N Scrap will be leading arts projects Saturday in our Big Backyard. Blast N Scrap is a nonprofit organization which supports young and emerging artists with performance and workshop space to help advance social inclusion and environmental sustainability in the arts.
On site: Launch Skate will be leading skating demos with the FoCoMX crowd on Saturday. Through skateboarding, Launch Skate helps develop leadership skills through volunteerism and reinforcing meaningful community connections.
Ice cream: On Saturday, local favorites Walrus Ice Cream will dish out great treats.
Plus, free entry to the museum gallery during performances on Saturday from 2 – 8 p.m.
And last but not least, see our very own Nick Duarte at Washington's on Friday at 5 p.m. with his band Post Paradise and Forrester Tamkun who will lead his band Write Minded at the Aggie Theater for a midnight performance as Saturday night becomes Sunday.
Continue Reading