Post written by Kristin Rush, Marketing & Communications Manager. 
At this year's Celebration of Gratitude, the museum's annual event recognizing the support of donors, volunteers, and Founders, FCMoD honored Dee Wanger. Dee is the woman responsible for the establishment of a little organization back in the eighties called the Discovery Science Center (ever heard of it?). Thanks to Dee, and a number of highly motivated community members, their dream of an interactive, engaging, and hands-on organization focusing on science and technology for children came to life. At the museum's Celebration of Gratitude, Dee gave the timeline of events that led to where we are now:
1986: Dee visited the Houston Children's Museum and thought, "Fort Collins could use something like this!"
1987: Dee turned to the yellow pages, calling about six different museums to ask about what it takes to create a museum from the ground up.
1988: The ball began rolling and did not stop! Dee attended the Boston Children's Museum seminar in April and then, in October of 1988, Dee and 15-20 people came together to begin the process of opening a museum in Fort Collins.
1989: In March of 1989, with the help of $50 donations from committee members recruited by Dee, the Northern Colorado Children's Museum became incorporated. In the same year, it was officially renamed the Discovery Science Center.
It took 2.5 years to go from concept to launch. The Discover Science Center was located in the old Barton Elementary School off of Prospect Rd. When discussion began of merging the Discovery Science Center with the Fort Collins Museum in 2008, the Discovery Science Center temporarily relocated into the Fort Collins Museum's building, then located in Library Park. After that, as they say, the rest is history. The two organizations then became what the museum is now: the Fort Collins Museum of Discovery.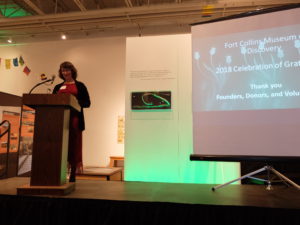 "Never doubt that a small group of thoughtful, committed citizens can change the world; indeed, it's the only thing that ever has." – Margaret Mead
As Dee said at Celebration of Gratitude, "Then, as now, it was with the contributions of time, talent, energy and funding by passionate, dedicated people that has enabled the museum to grow and thrive beyond a current vision. I have tremendous gratitude for that."
"At the time, we had a vision, but I think the Fort Collins Museum of Discovery has far-surpassed what we could imagine."
Thank you, Dee, for your time, talent, energy and passion. We wouldn't be here without you.
The museum relies on the generosity of you – our community – to do everything we do. Please consider donating to support explorations in science and culture for all.

Continue Reading