By Kathy Bush, Discovery Agent
Many are familiar with the story of the Boston Tea Party, but when did tea start coming out to Colorado? As early as 1859, when Colorado was still a territory, trains across the nation were importing tea to Aurora. When A. A. Edwards and Franklin Avery, pioneering founders of Fort Collins, first came over to the Cache La Poudre land in the 1870s, they would have seen in the Fort Collins Standard an advertisement from the Big Thompson Dry Goods department store for tea, along with other goods. The price for gunpowder green tea was $1.25 per pound and it was $1 for three pounds of Oolong tea in 1874. The currency was gold, not paper. In terms of inflation, one pound of gunpowder green tea would cost $32.49 by today's prices.
The 1880s was a very popular time for tea in the United States. Besides department stores, an alternative form of buying tea in Colorado was mail orders. Mail orders for tea would come from warehouse shipping centers based in big cities like New York. One advertisement in 1881 declared that one can buy five pounds of tea at the rate of 25 – 40 cents per pound. These mail orders often added perks to the order – from Indian ink portraits to collectable Chinese tea boxes. Mail order tea became so popular that people became concerned over the quality and purity of the tea, fearing that companies were adulterating – adding substances that do not belong in teas – to add bulk to their orders. This concern became so real that in 1883 a bill was passed forbidding the adulteration of tea sold within the U.S.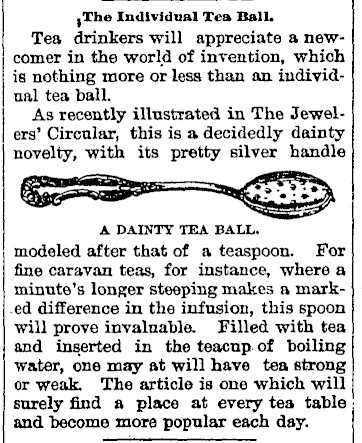 Franklin Avery married Sara Edson in the late 1870's and A.A. Edwards married Phebe Edson in early 1880's. Both started and raised their families in Fort Collins. The sisters would purchase tea for their homes as well as for their volunteer work with their local Methodist church. Tea parties were a popular way to entertain guests at home as well as for charity work with the community.
Wedding gifts often included a tea set of Chinese pounded silver. In 1894, the Fort Collins Courier published one of the first advertisements of an individual tea ball strainer, a tool that was still quite new back then. Tea parties often had cultural elements in addition to tea drinking itself, from music and poetry to learning about other cultures. For example, the YWCA at Colorado State University hosted a tea party in 1895 that shared Japanese culture while the guests were enjoying their tea.
In 1908, a newspaper advertisement showed the first strictly tea and coffee store in Fort Collins. The Ceylon Tea Store was at 150 Linden Street in 1908 and in 1909 it was at 126 South College Avenue. Today, 150 Linden Street is Old Town Square where pedestrians can walk around a goose water fountain and statues, and 126 South College Avenue is the Blue Harvest Apparel store. The Ceylon Tea Store stayed in business up to 1914 when it was sold to new management. Mrs. Sara Avery and Mrs. Phebe Edwards may have gone to the Ceylon Tea store to stock their kitchens during this time. In 1905, they would have expected to buy English Breakfast tea at 20 cents per pound and gunpowder tea at 50 cents a pound.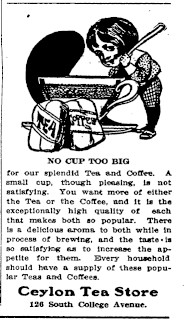 At the beginning of the World War One in 1914, the prices of all food items rose soon after as a byproduct of the war. Meat went up by five cents per pound and tea went up by 25 cents per pound from the original prices. To ration foodstuff at home to support the troops fighting overseas and because of the diminished food production in Europe, the U.S. had to focus on increasing food production. One action President Woodrow Wilson took was to ban using grains to distill alcohol. When the Great War was coming to an end in 1918, consequences of food rationing, along with anti-German sentiment, meant that Prohibition was gaining support in the government. In 1917, tea consumption was connected to the Prohibition movement and there was some suspicion that Japan was supporting the movement in order to secure its tea exportation with American businesses. An article from the Weekly Courier in 1918 stated that tea consumption was outpacing production because tea had become the popular social substitute for alcohol consumption.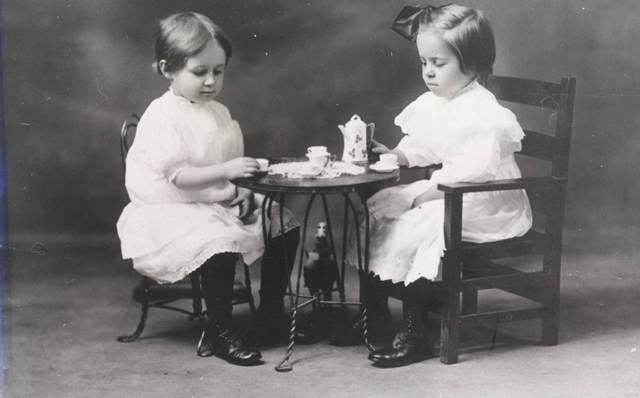 By the 1920s, the Avery's would be in their last years of life and the Edwards' would have been in their 60s and 70s. Tea had changed very much since the 1880s. Tea quality was standardized by the United States Board of Tea Experts by 1921 and more readily available once the country recovered from the Great War. Tea was more expensive than coffee in the 1920s, which most likely is a result of the Great War and the increase in standardization of quality and importation. Tea rooms were becoming popular in the 1920s as a form of socializing, lounging, and dancing, which was not a business model back in the 1880s. CSU even had its own tearoom called the Domino Tea Room. By the late 1920s, a small trend was emerging among young college ladies who were now considering a career of being a tearoom manager. As Fort Collins grew from being a frontier town into more a cosmopolitan college town, pioneers like the Averys and the Edwards would have seen many great changes and played a part themselves in developing the town into what it is today.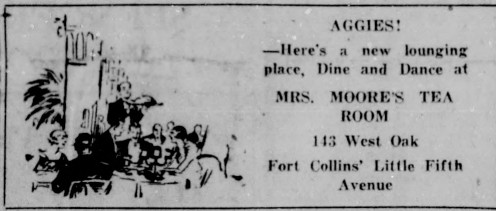 If this whets your appetite for a hot cup of tea or more history, come by Fort Collins Museum of Discovery's Café to see a photo gallery of the Avery family and the Edwards family while enjoying our local tea blends from Happy Lucky's in Fort Collins. The museum also has an archive for anyone wishing to do Colorado-based research in tea or anything at all.
Continue Reading