By Barbara Cline, Archive Assistant – Processing, Fort Collins Museum of Discovery
Is there anything special about July 12, 1962? I imagine there are several reasons for that date to be special. According to the National Aeronautics and Space Administration article on their website, it was "The Day Information Went Global." It was the day that the world first witnessed communications via satellite.
On July 10, 1962, the first active communications satellite, Telstar, was launched from Cape Canaveral, Florida, aboard a Thor/Delta 316 rocket.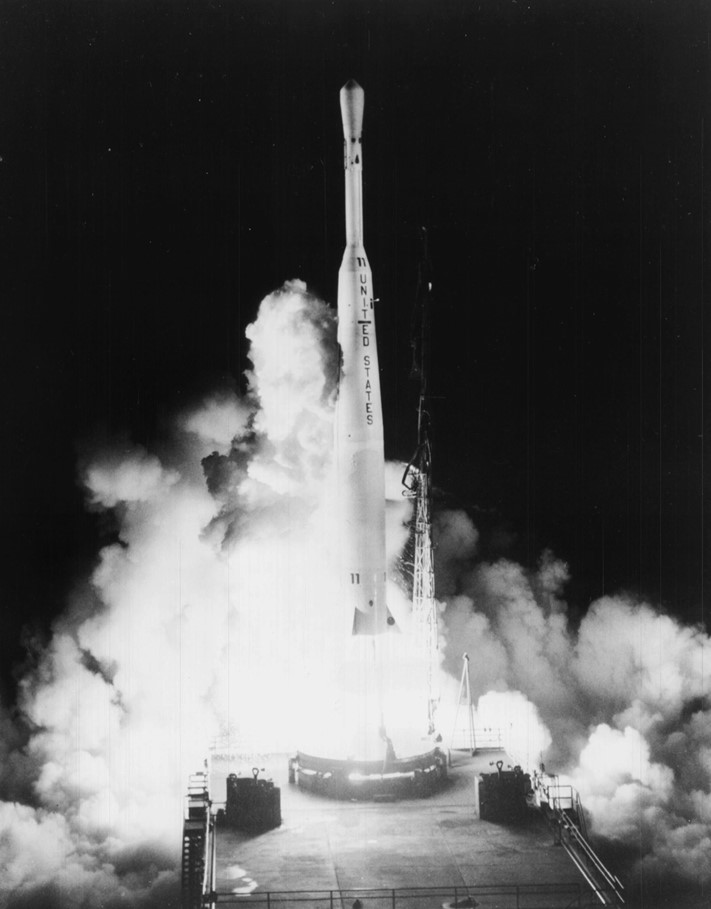 The first transatlantic television signal was relayed via Telstar two days later on July 12, 1962, from Andover Earth Station, Maine, to Pleumeur-Bodou Telecom Center, Brittany, France. Maine and France had the two tracking stations for Telstar.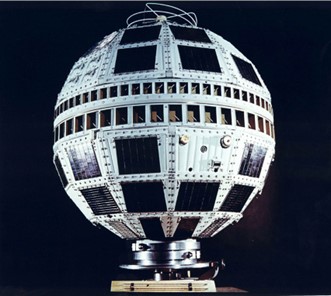 Though only operational for a few months, the Telstar satellite transmitted images from President John F. Kennedy's press conference, short clips of sporting events and images of an American flag and Mount Rushmore.
The first telephone call via Telstar was between Vice President Lyndon B. Johnson and Fred Kappel, President of AT&T.
"Good evening, Mr. Vice President," Kappel said. "This is Fred Kappel calling from the Earth Station at Andover, Maine. The call is being relayed through our Telstar satellite as I'm sure you know. How do you hear me?"
"You're coming through nicely, Mr. Kappel," said Vice President Johnson.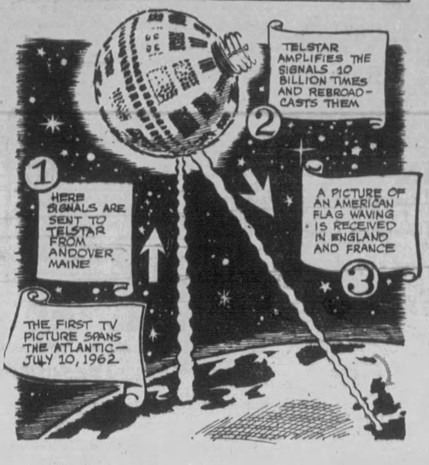 So, we see the beginning of the information age. But what is the connection between Fort Collins and Telstar, you ask? Let me tell you!
Telstar 2 was launched by NASA on May 7, 1963 and remained active for two years. As part of a Memorial Day-Centennial event on May 21, 1964, Myron "Mike" M. Braden, president of the Fort Collins Rotary Club and Rotary district governor in Sweden, Percy Hallencruetz, spoke via Telstar 2. By using the satellite, the Swedish Rotarian was able to express congratulations on the occasion of Fort Collins' Centennial anniversary. Mr. Hallencruetz tied the Centennial slogan to the use of Telstar in making this phone call:
"This is probably why we are making this call the way we are. But I didn't tell you, Mike, that this call is taking place by way of Telstar. The most advanced means of communication in this fast-moving world of ours. This is our way of helping you make your Centennial slogan come true: Past Achievements Challenge the Future. It's an excellent slogan, and I cannot think of any better way to challenge the future, nor to fulfill the dreams of the past than to speak to you on this historic occasion through the reality of today's modern communication achievement, the Telstar satellite."
You can listen to the recording and see a transcript on our website.

When you use your cell phones and other handheld devices, laptops, and televisions, you can proudly note that Fort Collins was at the forefront of the use of satellites.  And as you ponder this piece of local, national, and international history, you can listen on YouTube to "Telstar" by the Tornadoes.  Inspired by the first of the famous satellites, the pop song went to number one on the charts in both the United States and the United Kingdom.
Continue Reading