Post written by Alex Ballou, Marketing & Design Assistant.
On September 8th, 2018 we will celebrate Elizabeth "Auntie" Stone's birthday at her cabin.
Who is this woman who danced the night away, cooked for her neighbors, and who co-operated the first flour mill?
She is Fort Collins' very own Elizabeth "Auntie" Stone, the "Founding Mother of Fort Collins."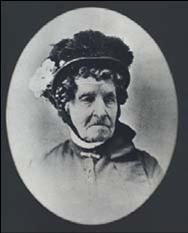 Elizabeth "Auntie" Stone
In 1862, Elizabeth Stone and her husband Lewis Stone traveled from Minnesota to Denver, Colorado in a covered wagon pulled by milk cows. In 1864 they moved to the frontier post that eventually grew into the Fort Collins we know today. There they built a log cabin to serve as both their private residence and an officers' mess. In 1867 Auntie converted the officers' mess into a public hotel.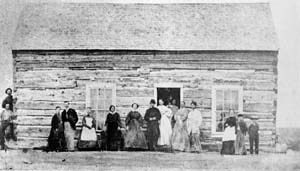 The Stone Cabin
Elizabeth, in her sixties at the time, cooked meals and baked goodies for the officers. Since she was so kind and hospitable, the soldiers of the post came to call her "Auntie" Stone, since she was like family to them. Elizabeth was the first non-native woman to permanently locate in Fort Collins. The community often referred to her as "dear old lady." She was well-liked, and her cabin served as the first school house in Fort Collins.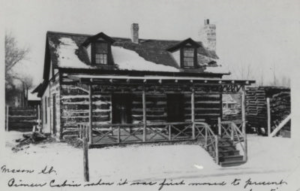 The First School House
The Fort of Fort Collins was decommissioned in 1867, but that's when Elizabeth hit her peak as a businesswoman. With her business partner Henry Clay Peterson, she started Lindell Mills, the town's first flour mill. She and Peterson also started and the first brick factory in Fort Collins.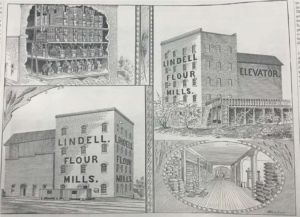 Lindell Flour Mills
She was again in the hotel business. Auntie first ran the Pioneer Hotel out of her cabin, and then bought the Blake House hotel in 1873. She also ran the Cottage House, a small hotel made from bricks from her factory, until age 80, when her daughter Theodosia Van Brunt arrived to take over.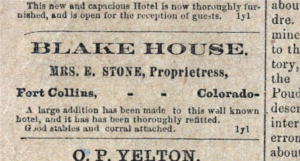 Blake House
Auntie Stone was a woman of energy. In 1882, for her 81st birthday, townspeople and four generations of the Stone family held a dance in her honor at the Masonic Hall. Everyone thought she would tire and turn in early. Instead, she cooked breakfast for everyone the next morning at 5:00 am, without any sleep.
"Auntie was a woman of the people."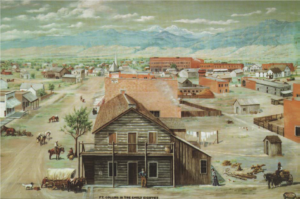 Painting of Fort Collins in the 1880s created by local artist Frank Miller in 1945
When she passed away in 1895, at age 94, the firehouse tower bell tolled 94 times in honor of each year of her life. The Auntie Stone cabin is cited as the oldest building in Fort Collins. After her death, women's societies in Fort Collins preserved her home as the first home in Fort Collins. Her cabin has survived three moves—it now sits at the Heritage Courtyard on Mathews Street in Library Park.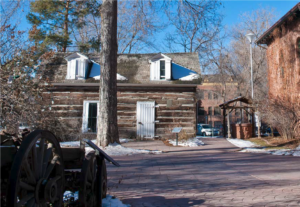 Present-day Elizabeth "Auntie" Stone Cabin
Auntie Stone was beloved in her own time, and still is today. It is theorized that Elizabeth Street is named in her memory. Auntie Stone Street is also named in her honor. There is a restaurant inside Fort Fun called Auntie Stone's Kitchen that follows the example of her fabulous hospitality. She's inspired living history interpreters, educational programs in her cabin, and even an Auntie Stone doll.
Auntie Stone influenced the movement for women's rights, the production of flour, and she transformed the community through her kindness and hospitality. We are excited to celebrate her memory. Let's keep the party going that Auntie started on her 81st birthday. Ain't no party like an Auntie Stone party! Join us on September 8th to celebrate Auntie Stone's 217th birthday in her very own historic cabin. Learn the Virginia Reel dance, decorate your own brick (after all, Auntie Stone owned the first brick kiln in Fort Collins!), and, of course, eat some birthday cake! We'll have our two other historic cabins and our 1905 schoolhouse open for exploration, too!
Sources:
Photos from the Archive
https://history.fcgov.com/explore/stone
Continue Reading