Post written by Carly Boerrigter, History Graduate Student at Colorado State University, Fall 2018 Intern at FCMoD
Taming of the Show: Processing a Local Fort Collins Theatre Collection
This past December, I had the pleasure of visiting England and seeing a live performance of Macbeth at the Barbican Theater in London. The whole evening was at the beckoning of my partner who has been a longtime fan of Shakespeare.
However, for me, seeing Shakespeare performed live in front of me was colored by my own experiences with plays, not performing in them, but examining them in the Archive at Fort Collins Museum of Discovery.
I was thinking of the tireless costume design, the sound bites running in the background, the director's notes that surely filled the margins of the script, the artists involved in creating the play's poster, and the photographer who surreptitiously had to take photos of the performance unfolding.
I was analyzing these seemingly minute aspects of the play, first of all because Shakespeare continues to boggle me and more importantly because for the past three months, I helped inventory a collection of documents from a local Fort Collins theatre company, OpenStage Theatre. In 1973, Bruce and Denise Freestone started OpenStage, which still performs in the local area today. In OpenStage Theatre's almost 50 years of existence, it has put on plays by Arthur Miller, Oscar Wilde, Lillian Hellman, as well as- other local playwrights. Further, the Freestones kept intricate records of all of the 206 plays that OpenStage Theatre performed from 1973 to 2007. These records consist of almost every paper document relating to all 206 plays, as well as – countless financial and accounting documents, meeting minutes, notes to staff, membership information, and a gun (a fake gun, that I realized was a prop, but not after jumping away from it as I saw it laying innocently among newspaper clippings).
Where does one even begin to make some sort of organizational sense with a collection like this?
I started big ­– with the MPLP (more product, less process) mentality, currently popular among archivists. To give you an idea, I opened up every box of those 102 boxes and wrote notes to myself about what exactly each box contained. Scripts? Receipts? Season ticket renewals? Meeting minutes from 1975? Donations? Grant applications? I took brief notes because the contents of those boxes ran the gamut.
A typical note to myself can be seen below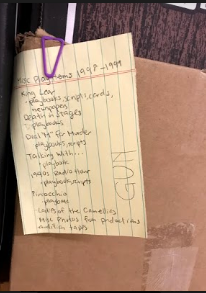 Here are a few of the 102 boxes with their notes tagged on them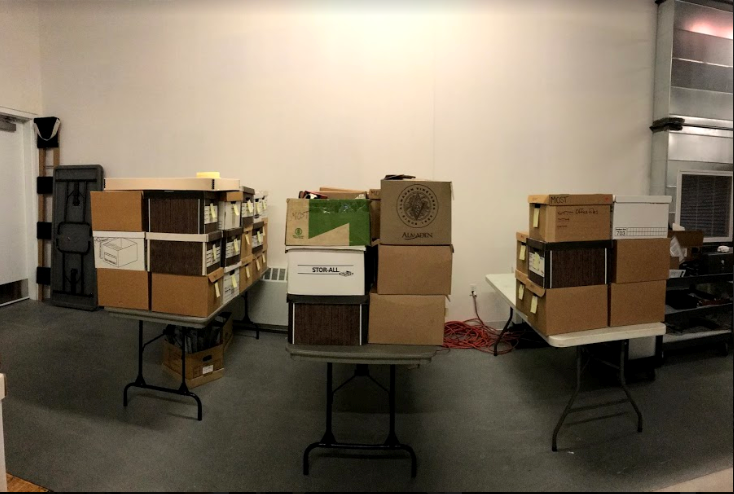 Generally from here, the archivist would find some sort of organizational pattern amongst the chaos. For instance, for OpenStages's collection, all documents fell into two major categories: documents pertaining to the plays or office files.
For the majority of my time at FCMoD, I focused on the actual documents surrounding the productions. These records consisted of hand drawn set and costume designs, photographs of actors applying makeup backstage and engaging in rousing sword fights on stage, unique and moving posters advertising productions to the public, playbills given to audience members, newspaper clippings advertising and commenting on performances, and much more.
By the end of my internship, I presented the Curator of the Archive, Lesley Struc, with about 15 boxes of neatly organized archival file folders, which all corresponded to one of the 206 plays performed between 1973 and 2007. Below, you can see an image of a before and after photo of a box of slides that I processed.
Before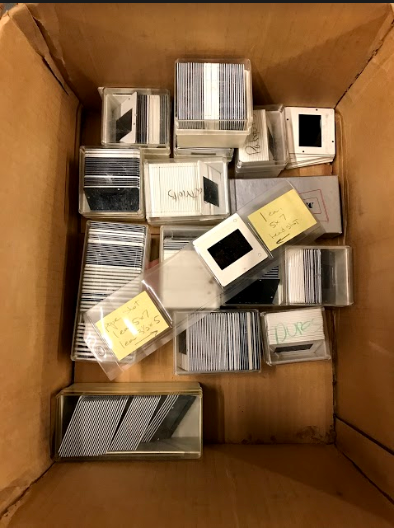 After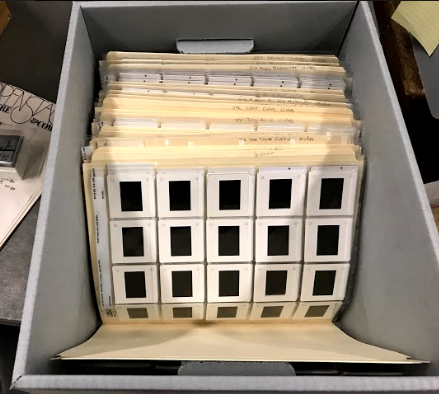 Now, when OpenStage begins the preliminary planning stages of their 50th anniversary, a researcher can visit the Archive at FCMoD and find a host of unique items that OpenStage Theatre produced, from costume and set designs for the Children's Hour, to the newspaper clippings of Snow White and Seven Dwarfs, to the intricate and textured orange poster for Carmen – a trove of organized treasures awaits them.
Research and commemorations would not be possible without the tireless work of archivists and I am happy that I was able to make the Archive at Fort Collins Museum of Discovery a little more accessible, just in time for the 50th anniversary OpenStage festivities to begin.
Photos courtesy of Carly Boerrigter.
Thank YOU, Carly, for being an awesome FCMoD intern! We so appreciate your hard work and our community is grateful for the work you've done to make local history accessible to all.
Interested in interning at FCMoD? Check out opportunities under the "Internships" section of this page.
Continue Reading