Post written by Alex Ballou, Marketing & Design Assistant.
Did you know that Fort Collins is an Arbor Foundation's Tree City USA? And that we have been a Tree City USA for over 40 years?
What is Tree City USA?
The Tree City USA program has been greening cities in America since 1976. The Tree City USA program has the potential to positively transform how communities see themselves. The Tree City USA program recognizes cities for basic tree care efforts and activities they are doing to keep their residents safe, increase their community's livability, and build community spirit. Healthy trees "advertise" a healthy community, and the Tree City USA program helps a community display that it values improving its trees on behalf of its residents.
How did we become a Tree City USA?
To certify as a Tree City USA a city needs to meet these four standards within a calendar year:
Standard 1 requires that a city have a tree committee or urban forestry department.  For many cities, the tree committee is a sub-committee of an existing commission. The formation of a tree board often stems from a group of citizens. Standard one identifies the people, or department, who are responsible for the policies and procedures related to a city's publicly owned trees, such as those along roadways and in parks. Involving residents and business owners creates wide awareness of what trees do for the community and provides broad support for better tree care. The Forestry staff of Fort Collins maintains more than 40,000 city property trees.
Standard 2 requires that a city have a tree care ordinance. No city needs to regulate tree care or tree removal off private property to meet this Standard. The tree board or forestry department has responsibility for public tree care (as reflected in Standard 1).
Standard 3 requires a $2 per capita expenditure on tree care and an annual urban forestry plan. This Standard is all about keeping records and being accountable to a cities residents. It is a way of showing how your city proactively manages it trees for the safety of its residents and beauty of the city. This expenditure goal doesn't need to be a line item in a city's budget. Volunteer time, contracted services for tree care and removal can also be included, as can the costs of leaf pick up and tree-related software purchase.
Standard 4 requires an Arbor Day observation and proclamation. Your city does not have to do this on National Arbor Day, but any time during the calendar year. Citizens join to celebrate the benefits of community trees and the work accomplished to plant and maintain them.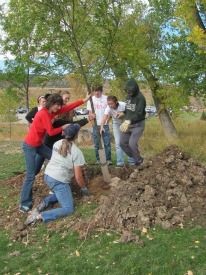 Why be a Tree City USA?
Tree City USA is a nationwide movement that provides communities with direction, assistance, and national recognition for their community. It doesn't relate to federal funding for state urban forestry efforts. State foresters are not paid by the Arbor Day Foundation to administer the program, but we do so because we see a lot of value in the simple urban forestry framework the Tree City USA program provides.
Fort Collins is proud to have been a Tree City USA for over 40 years.
"Someone is sitting in the shade today because someone planted a tree a long time ago." -Warren Buffett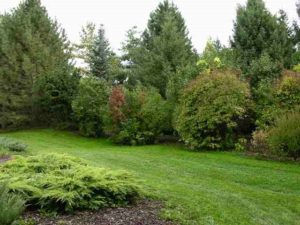 CSU Arboretum
Adding to Fort Collins as Tree City USA is the CSU Arboretum. The arboretum at CSU has the largest collections of woody plants in Fort Collins with over 1,100 different taxa represented. In 2017, 79 different woody plants were donated from 8 different nurseries arboreta, USDA, and other state experiment stations. Most plants are labeled with scientific and common names listed on it. In the southeast corner of the arboretum, a Plant Select® demonstration garden is planted. In this planting current and future woody and herbaceous Plant Select® endorsements, introductions or original plants are planted. Plant Select® is a joint plant introduction program between Colorado State University, Denver Botanic Gardens and the Green Industry of Colorado.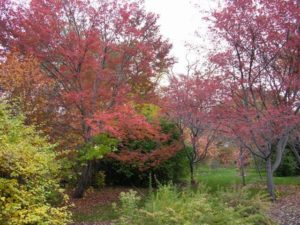 Celebrate Fort Collins being Tree City USA at the museum! Join us for Museum Takeover: Tremendous Trees on September 15th.
Sources:
www.fcgov.com/forestry/
landscapeplants.agsci.colostate.edu/arboretum/
www.arborday.org/PROGRAMS/treecityusa/treecities.cfm?chosenstate=Colorado
Photo courtesy of Visit Fort Collins Colorados' Website: www.visitftcollins.com/csu