Post written by Alexa Leinaweaver, Live Animal Husbandry Coordinator.
We have a new exhibit up in the Animal Encounters zone: Millipedes!
The name "millipede" comes from Latin and means "thousand feet". Millipedes have two pairs of legs for each body segment and usually more than 20 segments – which is a lot of legs! – but no millipede has actually been found that has 1,000 feet.
Millipedes eat vegetables, fruit, decomposing plants, and will even eat poop from other animals. They are the cleaning crew for the animal world!
These arthropods will curl up into a spiral or coil when they feel threatened. They can also burrow underground to find protection from predators, as well as food and cool temperatures.
There are a few different kinds you can find in our tank:
Florida Ivory Millipede (Chicobolus spinigerus)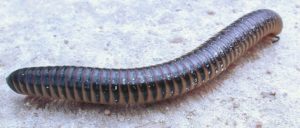 The Florida Ivory millipede is native to the American Southeast (Florida, Georgia, Alabama). They are smaller and black-and-white striped.
American Desert Millipede (Orthoporus ornatus)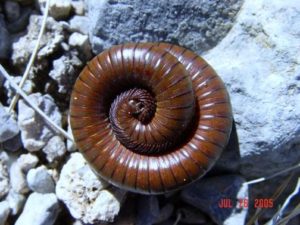 The American Desert Millipede is native to the deserts in the American Southwest. This species comes in several colors, depending on where they live and what colors keep them camouflaged and safe. The dark red-brown millipedes in the tank are also called Sonoran Millipedes, as that color tends to be found in Arizona, in the Sonoran Desert. The brown and gold millipedes are also known as Texas Gold Millipedes, as they are found in – you guessed it – Texas.
Come see FCMoD's millipedes during our open hours and stop by for our monthly series, Meet the Animals!