Post written by Lauryn Bolz, Archive Intern Fall 2019.
A Mountain of Memories: Processing an Archival Collection at Fort Collins Museum of Discovery
"To unite the energy, interest, and knowledge of the students, explorers and lovers of the mountains of Colorado; Collect and disseminate information regarding the Rocky Mountains on behalf of science, literature, art, and recreation; Stimulate public interest in our mountain area; Encourage the preservation of forests, flowers, fauna, and natural scenery; and Render readily accessible the alpine attractions of this region."
The Colorado Mountain Club's mission statement, written in 1912, has stood as an important pillar of the organization's 100+ year existence. Its holistic approach to preservation, respect, and exploration of Colorado's wild lands attracted a diverse cast of characters that are not only interwoven into the history of the club, but also in Fort Collins and Colorado State University.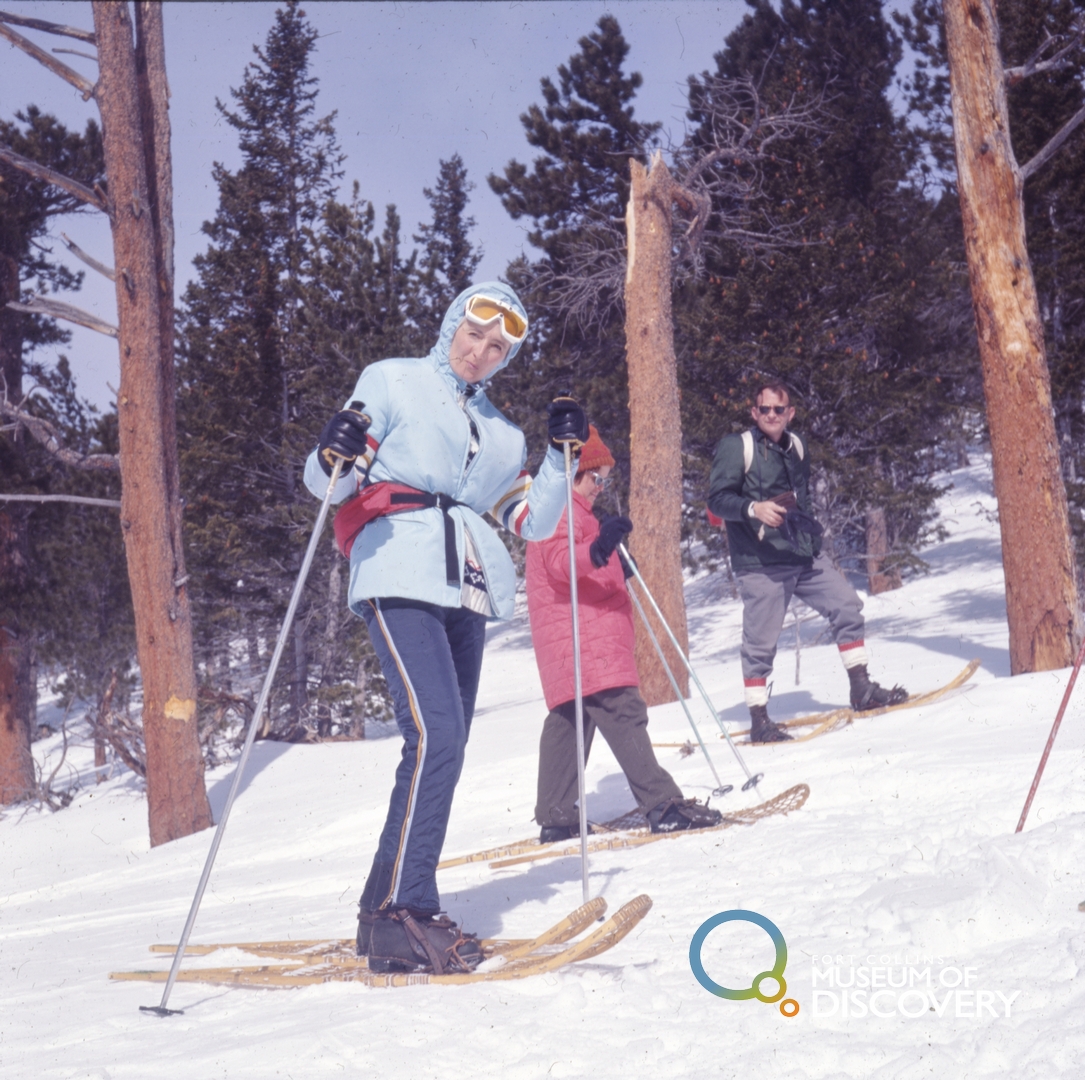 cmc_large_052: Snowshoeing near Bunce School Road in Allenspark, Colorado
This project was my first experience with archiving, and though I was ecstatic to have been given the opportunity to work at Fort Collins Museum of Discovery, the task appeared very daunting to me. One of the things that struck me was the vast amount of creative freedom given to archivists, despite the very methodical nature of the work. When Lesley Struc, the Archive's curator and my internship advisor, gave me the "Okay, go!" on my project, I found myself overwhelmed at how there could seemingly be infinite equations that all lead to the same result: a clean, organized set of documents.
Scanning my three boxes of material, I remembered my mother meticulously scanning my grandmother's old slides into the computer when I was a child, so that is where I decided to start. And wow, did my mom make that look easy.

Blog01: Sleeved slides from the Colorado Mountain Club Records
While some of these slides were organized snugly into appropriately sized boxes, with printed descriptions to match, some were thrown haphazardly into half-disintegrated brown paper bags from the 1960s, bound together with sticky old rubber bands. Though some of these methods were difficult to organize, I couldn't help but find it fun to get to know each of the photographers vicariously through their styles of handwriting and sorting. Alan Kilminster, who studied at CSU and later took a position there as a biomedical photographer, meticulously laid out each trail the Club took, taking more time to describe 'neighborhoods' of rocks than the people photographed around them. Chet Watts was a bit more relaxed, photographing his friends in funny poses as they made their way through Colorado's dazzling mountain settings. Frank Goeder was a professor of physics at CSU with difficult-to-decipher handwriting, which he used to describe the colors of rocks in his beautiful black and white photography.
Being a transfer student, and still relatively new to Colorado, it has sometimes been difficult to find an avenue to connect to the new culture and free-spirited mindset of my new home. Through exploring this collection, I've found that these connections are all around us, through art, literature, science, and our instinctual drawing into the wild lands.

cmc_large_013: Hikers taking a rest
Through conducting this project, I felt extremely connected to my new home in Fort Collins through getting to know the photographers of the CMC and seeing the Rocky Mountains through their eyes. I hope this collection helps other future explorers of the vast, diverse landscapes of Colorado, and prompts them to feel the same respect and inspiration shown by the original members of the CMC.
I would especially like to thank the beautiful, intelligent, and endlessly entertaining ladies of FCMoD's Archive. Lesley Struc and Jenny Hannifin, along with the cast of volunteers, that made my first experience with archiving fun, educational, and profound in many aspects in my life as I continue to pursue a career in museum work. Seeing new researchers come in every day, met with the wonderment of the archive and the passion of the workers there, has invigorated my interests in public history and Fort Collins' unique past.

Cmc_large_051: Climbing Mount Audobon
View the finding aid for the Colorado Mountain Club Records on the Fort Collins History Connection here.
Local history lives here. Visit the Archive & Collections at FCMoD – open Tuesday through Saturday from 10:00 am to 12:00 pm, and 1:00 pm to 5:00 pm – and like us on Facebook to see more historical images and artifacts. Archival images are available for research, purchase, and more through the online Fort Collins History Connection website.