Post written by Alexa Leinaweaver, Live Animal Husbandry Coordinator.
Birds in the Big Backyard!
Happy National Bird Day!
National Bird Day in the United States has been celebrated every January 5 since 2002, honoring and bringing attention to our native, wild birds. Nearly 12% of the 9,800 species of birds are endangered or threatened, often by human behavior or structures. Humans take over and change the habitats birds need to survive and find food.
Birds are a kind of animal that has evolved for flight from a group of dinosaurs called theropods (which includes Tyrannosaurus Rex). They have a skeleton that is strong and lightweight; they have a beak instead of teeth (which are heavy); they have feathers and wings; and they lay eggs. Some species of bird have lost the ability to fly and now run, jump, or swim – but they all have the same original adaptations. Birds can vary tremendously in size, from the bee hummingbird (the smallest at only 2 inches!) to the ostrich (the biggest at 9 feet tall!). Birds live on every continent in the world.
This year for National Bird Day, take some time to watch and appreciate the wild birds living around us. In addition to being beautiful, they are useful as well: they pollinate plants, spread seeds, and some of them even clean up dead animals. If you don't have a good spot near where you live or work, come by Fort Collins Museum of Discovery (FCMoD) and spend some time in our Big Back Yard. We have many birds that live here that you can enjoy watching.
Tips for bird-watching:
Where can you watch birds? Nearly anywhere! You can find birds in any open green space or water. At FCMOD, we have many bird feeders in the Big Back Yard that attract a lot of birds. Our local birds know that we provide a reliable source of food and there are almost always avian visitors.
Look around in every direction. Look at the ground, under bushes, up in trees, or soaring in the sky. Birds can be anywhere! Also listen. You may hear birds that you can't see.
Learn about different kinds of birds so you can figure out what you are seeing. Different species can be distinguished in many ways – color and pattern; size and shape; song; behavior; habitat. When you are looking at a bird, try to notice as much detail as you can. Is it bigger or smaller than a common bird you know, like the American Robin? Are you in woodlands or by a lake? What is the bird doing?
Be quiet and move slowly when you're watching birds. Birds get easily startled by loud noises or sudden movements, and will fly away to safety. Birds also hear better than humans do.
Be patient! If you are still and quiet for a little while, birds will eventually move from cover into a space where you can see them better.
Try pishing. Pishing is a small, squeaking noise that you can make by either kissing the back of your hand, or whistling the word "pish" through your closed teeth. Small birds may be attracted by the sound.
Equipment that might help:
A good pair of binoculars. You will enjoy looking at birds much more if you can see them up close! We have some binoculars you can use at FCMOD.
Bird Identification Guide. There are many excellent books and websites, as well as bird ID apps for your phone.
Put up a bird feeder by your home. At the museum we have many feeders with a wide variety of food types, as different species of birds eat different things. Different bird foods include sunflower seeds, suet, hummingbird nectar (sugar water), millet, thistle seeds, and fruit.
Remember to always be respectful of both wildlife and other people when you're out birdwatching.
Check out the American Birding Association Code of Ethics for guidelines. And thank you to Wild Birds Unlimited for their support of our Big Backyard birds!
Blue Jays (Cyanocitta cristata)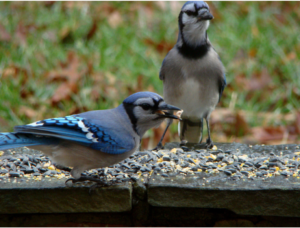 Mourning Doves (Zenaida macroura)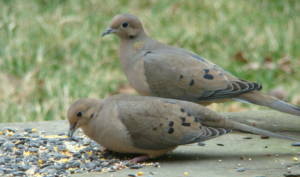 Black Capped Chickadee (Poecile atricapillus)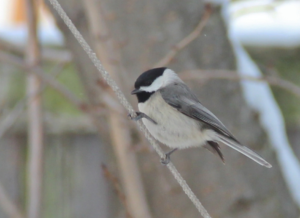 American Goldfinch (Spinus tristis)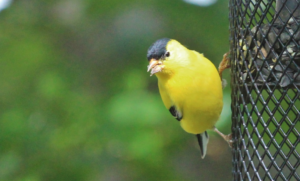 Swainson's Hawk (Buteo swainsoni)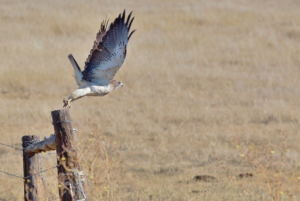 Steller's Jay (Cyanocitta stelleri)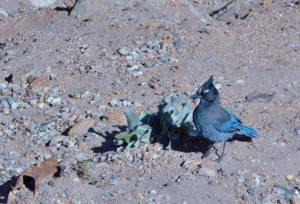 Photos courtesy of Alexa Leinaweaver.