Post written by Kim Fraser, Black Footed Ferret Program Coordinator.
BFFs: Black-footed Ferrets or Best Friends Forever
The Black-footed Ferret (BFF) (Mustela nigripes) is the only ferret native to North America and lives on the short grass prairie of the Great Plains. BFFs are members of the Mustelidae family which is often referred to as the weasel family, and includes mink, badger, marten, otter, weasel, fisher, wolverine, and domestic ferret. They are nocturnal, solitary, require large expanses of landscape, and spends their whole life on prairie dog colonies. In the prairie dog burrow systems they seek shelter from predators and weather, eat, sleep, and raise their young. Over 90% of their diet is prairie dog and they eat over 100 per year. BFFs are called fossorial predators, meaning they hunt underground. Their home range is in 12 Western states including Canada and Mexico. Considered one of the most endangered mammals in North America it has been federally protected for over 40 years. The BFF Recovery Program is one of the most successful recovery programs with over 50 State, Federal, Tribal, NGOs and private landowner partners that all participate in recovery efforts.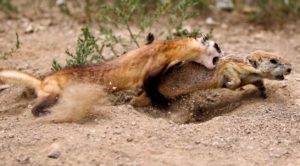 Why should we protect black-footed ferrets?
In 1974 when the Endangered Species Act was enacted the Black-footed Ferret was in the top 10 species listed for protection. No one knew then how difficult or easy saving a species from extinction would be. Today, we know recovering an endangered species involves many partners, time, and effort. Since the ESA became law some species have had survival success and some have not. Many people have asked is it worth it? Is preventing the extinction of an iconic species like the black-footed ferret worth the effort? The answer is yes, it is worth it, and here's why. The BFF is an important member of the prairie ecosystem and their presence indicates a healthy habitat that supports many other species. Without black-footed ferret conservation efforts, prairie dogs and other associated species such as burrowing owls, swift fox, mountain plovers, ferruginous hawks, prairie rattlesnakes, and many others could easily succumb to current threats. So by conserving black-footed ferrets, we have to conserve prairie dog habitat and that saves an entire ecosystem and its inhabitants that call the short grass prairie home!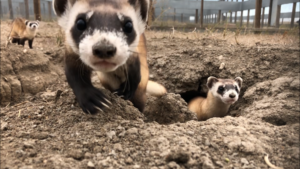 Why should people care and help save this species from extinction?
Maybe it's because BFFs capture the imagination that there's this rarely seen and secretive animal living on the short grass prairie underground. And even though it is one of the most endangered mammals, most Americans will never have the opportunity to see a live BFF. It's like a fairytale character of the prairie that represents the wild, and people are passionate about the wild and fascinated about the animals that live there. When folks learn about BFFs they are amazed that something so cool lives right in their backyard- in America. We all know about other species that are in trouble across the globe, like elephants, tigers, chimpanzees and rhinos. And it is good to care about what happens to all species on our planet because we are a global living place. Every day we hear about how these other species are doing and how we can help them and that's important. But here is an animal that makes its home right here, it belongs to us as Americans as one of our native species. We should care and protect BFFs so they will remain part of the wilds of North America. One way to help save BFFs is by learning all you can about them. Because by learning you will come to care about them, and when you care, you will want to help save them. So you see by caring and helping to save them from extinction you are being a BFF or Best Friend Forever not just to black-footed ferrets but to future generations so they too will have BFFs living wild and free on the prairie.
The museum is proud to have two black-footed ferrets on-site in partnership with the National Black-footed Ferret Conservation Center. You can see what our BFFs are up to while we're closed via our Ferret Cam: fcmod.org/ferret-cam!