Post written by Archive & Collections staff members at Fort Collins Museum of Discovery.
Lindenmeier Lake Resort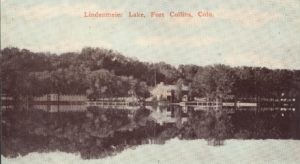 Postcard advertising Lindenmeier Lake, 1900s
In 1908, lovebirds in Fort Collins might have gone to Lindenmeier Lake Resort for a day of recreation and fun. It was a place for a picnic lunch in a shady grove, or a romantic rowboat ride on a cool lake followed by an evening of dancing to live music beneath the stars.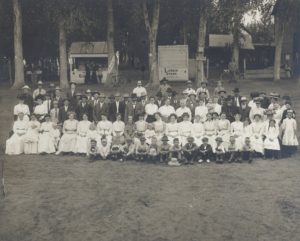 Caledonia Club picnic at Lindenmeier Lake, 1910
William Lindenmeier, Jr., who lived with his family in their home on the lake, started Lindenmeier Lake Resort in 1908. Lindenmeier Lake, a natural lake over a mile long and half a mile wide, is located about 1.8 miles northeast of downtown Fort Collins. The pleasure resort was free to the public and opened formally on June 28, 1908 after the streetcar system in Fort Collins was extended to the site. The trolley made hourly round trip runs to the resort, and passengers could ride the streetcar from any part of the city for a fare of 5 cents. It proved to be a popular destination not only among locals, but also among excursionists who came from Denver to share in the fun.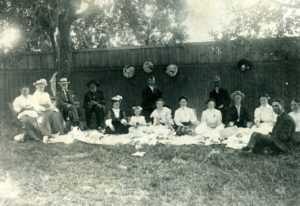 Picnickers at the Lake, circa 1908
Trolley parks such as Lindenmeier Lake Resort were fashionable in the United States during the early 1900s, and by that time many major American cities had one. In an attempt to drum up more business during weekends, trolley companies built picnic groves at the end of trolley lines where people could go for rest, relaxation, and beautiful outdoor scenery. Whereas people previously traveled by trolley mainly during the workweek, trolley parks enticed riders to drop a coin on transportation during weekends as well.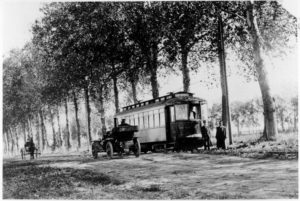 Fort Collins streetcar on its way to Lindenmeier Lake, circa 1911
Trolley companies took further inspiration from the popularity of Coney Island amusements. In addition to boats and live music, many parks in the country added lavish entertainments such as Ferris wheels or penny arcades. While Mr. Lindenmeier's resort did not boast a roller coaster, it did possess a nickelodeon and a zoo that included a bear and monkeys!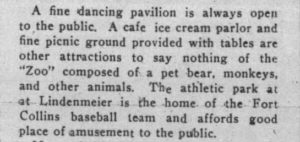 Clipping from the Fort Collins Morning Express, July 16, 1914
Among the resort's main attractions were its relaxing outdoor water activities. Mr. Lindenmeier provided a steam launch and rowboats for the park's visitors, as well as a bathhouse and swimming suits for swimmers. The lake, bursting with fish, was an angler's paradise.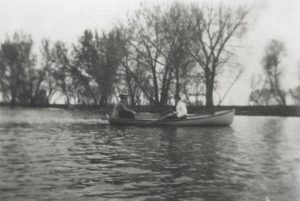 Canoeing on Lindenmeier Lake, 1910s
People of all ages enjoyed the resort and flocked to it in droves. Couples, families, groups of young people, and folks who wanted to unwind after a long work week came in search of good times and ice cream from the ice cream parlor. In the cold winter months it was ice skating, not ice cream, that brought visitors to the resort.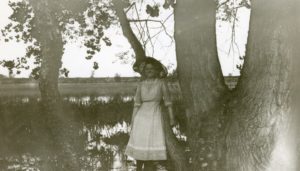 Dorothy Emerson relaxes in the shade at Lindenmeier Lake, circa 1915
During its glory days, as many as 5000 people could be counted at Lindenmeier Lake Resort on holidays. After a decade of good times, however, Lindenmeier Lake Resort was closed in the late 1910s. The age of the automobile had come, and the trolley park became a fond Fort Collins memory.
Local history lives here. Visit the Archive & Collections at FCMoD – open Tuesday through Saturday from 10:00 am to 12:00 pm, and 1:00 pm to 5:00 pm – and like us on Facebook to see more historical images and artifacts. Archival images are available for research, purchase, and more through the online Fort Collins History Connection website.