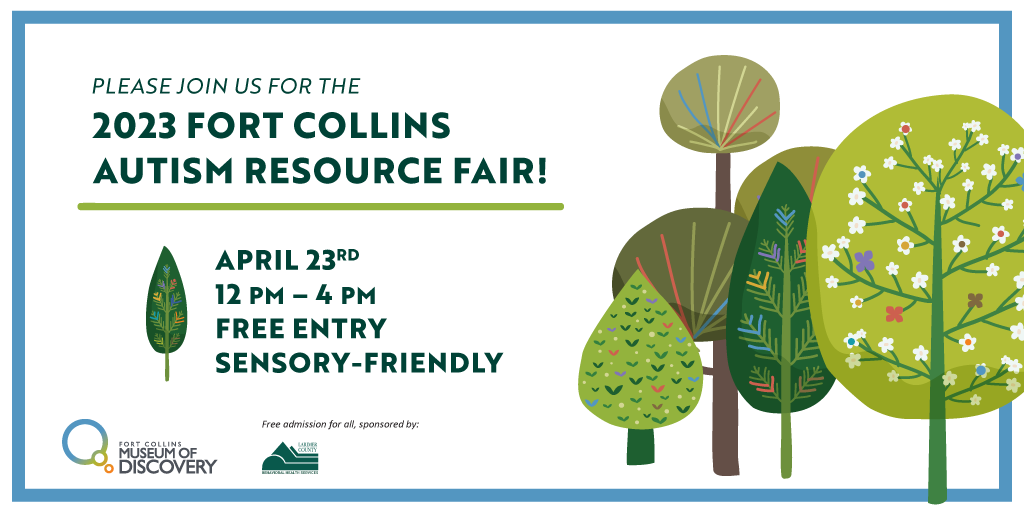 By Scott McKinney and Laura Vilaret-Tuma 
 
Happy Autism Awareness Month! 
Did you know that since 2018, FCMoD hosts the Fort Collins Autism Resource Fair in the month of April?
We are lucky to welcome more that 300 neurodiverse individuals, their loved ones and caregivers during this yearly event to explore information about local autism services and support in the Northern Colorado area.
As we continue to welcome folks from the community each year, we learn how important it is to "know before you go" –that's why we've developed a suite of resources to help you prepare for your visit to FCMoD whether you're coming for Autism Resource Fair or just a regular day of fun at the museum!
So, what are the options?
An FCMoD Social Story: A Social Story is a tool used to explain specific occurrences, concepts, and interactions in a digestible manner, as well as develop greater social understanding and safety for people on the Autism spectrum. Download An FCMoD Social Story here. 
Video Tour of FCMoD: "Walk" through the museum before you visit while learning about our history, exhibits, and more. Available in VR! Check it out here.
Ability Pass: If a guest who has a disability is accompanied by a professional aide, the aide is admitted to the museum and OtterBox Digital Dome Theater for free.
S.P.A.R.K Pack: The S.P.A.R.K. Explorer Pack is a Sensory Processing and Autism Resource Kit that was designed by the Colorado Autism Society and the Autism Community Store in Denver. The items inside can be used to sensory-soothe or sensory-provoke. Each kit includes a wiggle seat, a visor, noise reducing headphones, a 'seek-and-find' weighted lap pad, and fidget keychains. It can be used during your gallery visit or during a film in the OtterBox Digital Dome Theater! It will be available for check out at the front desk for no additional fee. An ID or membership card will be needed for a deposit.
Discovery For All: At FCMoD, we believe discovery belongs to everyone! There are multiple ways to access the museum, from partnerships with local libraries to special discounts for qualifying visitors. Read more about these resources here.
Accommodations at the Fair: Each year, FCMoD strives to improve our offerings for sensory-friendly accommodations during the Autism Resource Fair. This year, we'll have the following:
Sensory Bags containing sunglasses and earplugs, available at the museum.
Sensory Advisory Warnings on all loud exhibits.
Quiet space located in The Archive.
Low lighting in our Woodward Special Exhibition Gallery.
Volume adjustments in our Soundscapes exhibit.
Students from Colorado State University Human Development and Family Studies (HDFS) department to help navigate the fair events.
Visual markers (balloons!) at all fair areas.
If you ever want to know about FCMoD's latest accessibility resources, please visit our Accessibility page. Prefer to chat over the phone? You can always give us a call at (970) 221-6738.
Join us for the FREE 2023 Fort Collins Autism Resource Fair on April 23rd 2023 from 12 PM – 4 PM, generously sponsored by Larimer County Behavioral Health Services Impact Fund Grant Program. See you there!