Post written by Jenny Hannifin, Archive Assistant.
Women's Suffrage in Colorado: 1877 and Susan B. Anthony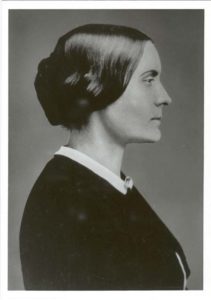 (Image from U.S. National Archives – used in e-article,  no date or identifier given)
Susan B. Anthony spent a month in Colorado in fall 1877 dedicating her considerable political talent to Colorado's first attempt at voting rights for women.  It failed. 
While most of the country celebrates the centennial of women's suffrage in 2020, Coloradans began our celebration decades ago. That's because women here got the right to vote in 1893. The road to state suffrage took decades of work, suffered several setbacks along the way – and brought luminary Susan B Anthony out West.
But first – who was first?
In 1869 Wyoming's territorial legislature approved equal suffrage. The fact that Wyoming was a territory, not a state, is an important distinction (more on that below) – yet Wyoming's achievement was important.
Ruth Orr says that her grandmother was one of the first "women in the world"   to vote in Wyoming in 1869 (Coloradoan, August 23, 1978).   Ruth discusses these and other suffrage issues in her oral history,   available in the Archive.
The Colorado state legislature approved the suffrage referendum in January 1893, and male voters in Colorado approved full suffrage for Colorado women on November 7, 1893. Colorado men were the first men of the country to majority vote for female suffrage. Here's what a few suffragists of the time said:
Susan B Anthony: "The men of Colorado are the best in the world." (Denver Post, Empire, November 20, 1977, page 39; quoting Anthony from May 8, 1895)
Ellis Meredith in a letter to Anthony: "I can't yet believe it is true—it is too good to be true!" (Suffrage: Women's Long Battle for the Vote, Ellen C. Dubois: Simon & Schuster, 2020; p 138)
Let's not forget, however, that Wyoming's enfranchisement status, territorial though it was, served as an inspiration for the movement.
"Over these difficult years, only the women of Wyoming Territory were able to maintain their franchise rights without interruption, joining with men voters when statehood was secured in 1890. At last and at least, somewhere in the United States, women had full and equal voting rights. In Wyoming they could cast their votes for Congress and for president."  (Dubois, p 125)
1877: Susan B Anthony comes to Colorado
Colorado territory had not allowed their women at the polls, whereas other territories did (Wyoming Territory passed women's suffrage on December 1869; Utah Territory on February 1870). For the full story on which states can claim what and when regarding women's right to vote, read this History Colorado article.
When Colorado sought statehood in 1876, suffragists raised the issue again.
"When Colorado Territory laid plans to become a state in time for the nation's Centennial, local supporters of woman suffrage saw the historical opportunity to come into the union as the first state with full voting rights for women … Local suffragists petitioned the Colorado constitutional Convention, but it resisted … . Instead, Colorado politicians offered a compromise. Starting one year after statehood, a simplified voters' referendum … could amend the new constitution to allow women the right to vote. Suffragists accepted the offer … " (Dubois pages 119-120)
The suffragists of the West needed help —  "enthusiasm was great, but resources were meager"– but few women from the East wanted to spend time here. "[Lucy Stone] wrote to her daughter that her father thought he could make a better living in Colorado than Boston, but 'I'd rather be hung than live here.'" (Dubois page 120)
The intrepid Susan B Anthony spent a month in Colorado in fall 1877 dedicating herself to the cause:
"Anthony .. was a born agitator and an inveterate adventurer, and the call from Colorado proved irresistible. In early September, she arrived in Denver, ready to lecture throughout the state. … With casual fortitude, she rode on a narrow-gauge railroad over a nine-thousand-foot peak to reach a railroad town that was barely three months old." (Dubois page 121)
Read her diary of 1877 here.
Anthony's efforts were in vain; the Colorado referendum of 1877 was defeated, for various and complicated reasons, by a margin of two to one (see a good account in Colorado Encyclopedia). It did, however, give Colorado women the right to vote in school elections and to hold school offices.
As we all know, the fight was far from over. Our next Suffrage in Colorado blog will look at the events of 1893 and beyond.
Educational opportunities like this are supported in part by Fort Fund.