Post written by Linda Moore, Curator of Collections at Fort Collins Museum of Discovery.
These Artifacts Aren't Playing Coy with History
Though all historic documents and artifacts are open to interpretation, the material nature of authentic artifacts give them a level of trust-worthiness that is unique. A thumbprint pressed into clay by its maker, a bare spot worn into the brim of a tophat that has been politely tipped hundreds of times, or the impossibly narrow width of a wedding shoe from 200 years ago —these are all ways that artifacts can speak to us about the nature of the people whose lives touched them.
Even in the case of people who are well represented in the written record, artifacts can add aspects of humanity to their story. Elizabeth "Libbie" Coy was born in Fort Collins in 1865, the daughter of Mr. and Mrs. John G. Coy, who had arrived here in 1862. She is well-known in our local history as one of the first three people to graduate from what was known then as Colorado Agricultural College —today's Colorado State University, in 1884. Libbie was, in fact, the first woman to graduate from any institution of higher learning in the state of Colorado. She was intensely engaged in the early civic life of our community, advocating strongly for the women's suffrage at both the state and national level.
Libbie Coy is represented in the Fort Collins Museum of Discovery's historic artifact collection by a small, diverse set of objects. The most personal is this cream wool skirt and bodice ensemble which she wore for her wedding to James W. Lawrence on June 19, 1890, after which she was known as Mrs. James Lawrence. This formal outfit echoes Libbie's diminutive form, as well as the prevailing fashion of her time. The sleeves with full puffs at the top, known as "leg-of-mutton" were the height of fashion in the late 1880s, and a suit which could be worn for other occasions rather than a gown designed to be worn for the wedding day only, was a common choice for brides of her day.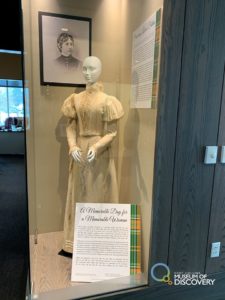 Other objects in the museum's collection represent the Coy family's settlement in this area, and the agricultural life they led here. The family brought this pump organ overland by an ox team when they traveled here from the eastern United States in 1873. It attests to the important place that music played in their family life, and is on exhibit in the Music & Sound Lab of FCMoD.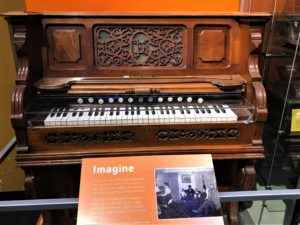 These two rough wood objects reflect the work of Libbie's father, John G. Coy. The donation record states that he shaped this potato masher by hand, and he may also have made this grain flail, which he used to beat the hulls off of whole grains produced on the family's farm.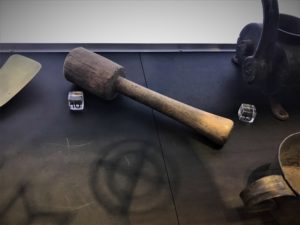 Lastly, we have this framed motto, stitched by Libbie Coy's own hand. Local historian Evadene Swanson, recalls seeing it displayed on the kitchen wall of the Pioneer Cabin, once it had become a Fort Collins meeting place. Shaped by her hands, do you think this motto reflects Libbie's spirit as well?