Post written by Kristin Rush, Marketing & Communications Manager.
The Fort Collins Museum of Discovery had the honor of hosting former NASA astronaut, Dorothy "Dottie" Metcalf-Lindenburger, at this year's Celebration of Gratitude on Monday, April 23rd. Celebration of Gratitude is the museum's annual event honoring donors, partners, and volunteers. Dottie, a graduate of Fort Collins High School, was selected by NASA to be a Mission Specialist on the STS-131 Discovery in April of 2010. When she flew to the International Space Station, she took a Fort Collins High School Lambkin with her, which is on display at FCMoD, along with her suit and helmet. The exhibit display is located in the Woodward Special Exhibition Gallery, with the Smithsonian developed exhibit, Earth from Space, currently on display until June 3rd.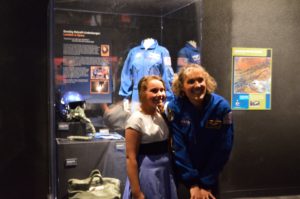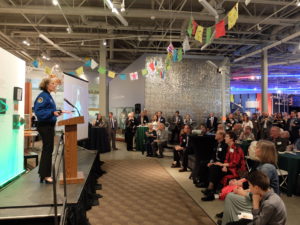 Dottie, the keynote speaker at Celebration of Gratitude, sat down with staff for an interview. The following interview has been edited for length and clarity.
How did growing up in Colorado shape your ambitions and goals?
I grew up in Loveland and graduated from Fort Collins High School, and I think what I like to credit Colorado having is big skies and great rocks. My parents took me to visit our local museums, and I also had a really great education. The experience of being outdoors often, and being able to see the stars at night was so special. Now raising my daughter in Seattle, I realize that it's actually rare for people to see the night sky so regularly. It's a pretty big deal to have that all the time in Colorado. So I really credit all of those things with helping to shape my perspective.
What were your biggest fears and biggest dreams when entering the Astronaut Corps?
It's a bit intimidating to be joining the people who are considered to have "the right stuff." Even though lots of people have "the right stuff" for all different reasons. Just living up to the expectations of being an astronaut, and then fulfilling those expectations of what people see and expect is a lot. It's a dream and a fear at the same time.
Also, you want to make sure you keep your crew mates safe. You're aware of the risks. I wasn't afraid when I signed up. I had been aware of the risk of space flight with other missions. It's helping others that care about you understand those risks and how we try to mitigate them.
What are the qualities in yourself that you believe made you successful as an Astronaut Candidate?
I worked hard in school, in math and sciences – actually in all my classes I did well! Also, being an athlete was very important. A lot of being an astronaut is being physically fit – like the training that's in the water in the Neutral Buoyancy Laboratory, where you work over 5-6 hours in the water moving big bulky suits. You need to be able to fly in your T-38. You need to be healthy. Therefore, being an athlete was important. It also just so happens that they were hiring teachers in 2004, and I was a very motivated teacher. A number of these factors helped me rise to the top.
What role would you like to see museums like FCMoD play in helping prepare young people for a career in STEAM related fields?
I see museums as a collective that allow you to experience things that you could not individually do by yourself. Museums allow you to time-travel into the past, but also fast forward way beyond into the future. They allow you to keep coming back, revisiting, and rediscovering. Every time you visit there is something new. From taking small children and hitting the highlights, to visiting with students for a particular subject, such as growing up in Colorado or a specific unit in science, to doing research. A unique thing about museums too is special traveling exhibits! The special exhibit FCMoD has right now is great!
"Museums allow you to time-travel into the past, but also fast forward way beyond into the future."
What were the biggest differences in your training and the actuality of being in space?
Well, the good thing is that you don't have nearly the problems that they put you through in the simulator. We would go into a simulator just about once a week as we were leading up to our flight. They break main engines, fuel cells, computers, the communication systems, with the point of helping you understand how these systems work and helping you recognize that you can work well under pressure, and back each other up. So when you get to space it's a lot easier! But when you get to space you have "space brain" because there's all this new stuff that's very stimulating, so you start paying attention to other things. It's good they overstimulated you with potential failures, so you've been trained to focus on the important things.
Does your all-astronaut rock-band, "Max Q" still perform and what were/are your songs about?
We tried to get back together! Chris is in Canada, Ricky and Drew are on the space station now, Tracy's in Houston, and Steve is in California. We're all pretty far flung. That's what was hard about the retirement of the shuttle. We tried to pass on the band to the next classes of astronauts, but those classes were small – they had musicians within them – but they were already overtasked with so many other things in their life that adding in music was challenging.
Our songs were just cover songs. [Laughs] We had one original song, but it's a little bit like a song that already existed, with some different lyrics. We covered some Train with "Drops of Jupiter." They weren't all space themed though!
What's the hardest thing to describe about space?
Just the everyday things you do that you take for granted are a little bit harder. Putting your contacts in, combing your hair, brushing your teeth – it takes additional time to do everything. I am sure people who live on the space station for extended periods of time are able to adapt, but being on the station for 15 days, it's like being on a camping trip – you just take those extra steps to do normal, daily things. It's hard to describe to people something like you can't shower in space. That blows kids' minds, they are like "that's gross!" I mean, we keep clean. You can show what happens to water when it's floating around. We have water – you just can't shower!
Now that you've had the view of Earth from space, what do you think about when you look up at the night sky?
I think it's still so beautiful. I've always thought it was so beautiful. I had a telescope (gifted from Santa!) in sixth grade. I taught astronomy, and even now I build a telescope with my students, so I've always liked looking at the night sky. Now I take my daughter to check these things out. I took her to see the eclipse in 2017, and at first she was like "why are we driving 8 hours to the other side of Oregon" but then when she saw the actual totality of the eclipse, she understood why I wanted her to see it and experience it.
What was the most impactful take-away from your time at the International Space Station?
As an Earth scientist, as someone who saw the atmosphere, I realized I have a voice. People listen to me now that I've been in space. So what I try to always tell people is: Earth is our spaceship for 7 billion-plus people and it needs to be taken care of.
"Earth is our spaceship for 7 billion-plus people and it needs to be taken care of."
FCMoD displays an exhibits case with the Fort Collins High Lambkin you took into space. How does it feel to have your story preserved in a museum? 
It was really cool to see the display! It's amazing! As a kid, when I'd come to the old Fort Collins Museum, you see things from the past and you wonder about the people, the objects, everything. I hope my story in FCMoD helps inspire kids to be whatever they want to be when they grow up. In my case, I wanted to be an astronaut!
What do you wish people would ask you about space?
Hmmm, people ask a lot of really great questions about it, but that's a good question… I try to be pretty transparent about my experience. One thing I've been telling kids about is that astronauts also get disappointed, and that it's ok to be disappointed. There were some things I really wanted to do in space, like I wanted be a space walker. I was the backup – which is awesome in and of itself – but I wasn't able to actually do it. I also wanted to run on the treadmill, but there was only one and it had some issues. If I used it and anything happened to it, the exercise of the ISS crew members would be impacted. I think it's important to know you don't always get everything you want. You learn this as you grow up.  This is a lesson I try to teach my daughter. And it doesn't have to be a bad thing! I got to go to space and loved it, but there might be some disappoints that you hold to – and that's ok! It's ok to be a little disappointed – that's life.
What type of research do you think will be done in the future of space travel, NASA, and the like?
There are so many breakthroughs with the human body. We saw just this summer that genes may change as people are in space. We know that interocular pressure has changed. So understanding "why is this happening?" – why is there a fluid shift in the head? Is that bad? What are the long-term implications of that? So there's a lot of medical studies coming out that I think will be interesting research and data to explore. Of course, research takes time, so that is important to remember.
Here at FCMoD, we host Space Explorers and Space Adventurers Summer Camps. What advice do you have for the future little astronauts, scientists, explorers, and dreamers of the world?
Always be curious. Curiosity took me a lot of different places. It's allowed me to climb mountains, go to space, and also just enjoy every day – some little piece of the day will always be new or different. I just saw an odd bird on my way here – that was fun! Curiosity will keep you going and excited about each new day. In their lifetime, their jobs are not even created yet! By being curious, they get to create their own futures! Be curious: explore & discover.
"Always be curious."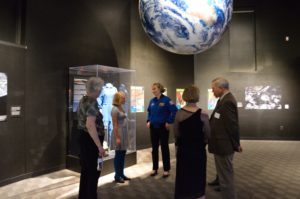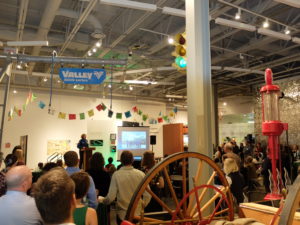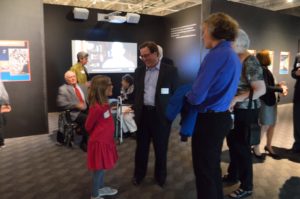 Thank you to Dottie for her time and inspiration!
FCMoD relies on your generosity to do everything we do. Please consider supporting discovery for all today.