By Doug Ernest
"Ever since our arrival at Camp Baldwin we have all contended that whatever anybody else could do, Battery A could do a little better."
– John Hurdle, letter published in The Weekly Courier, March 22, 1918
FCMoD's Great War blog series is highlighting the scrapbook album compiled by Fort Collins native John Hurdle, who served with Battery A in the 148th Field Artillery Regiment of the 66th Field Artillery Brigade, and fought on the Western Front. Hurdle created a detailed album of his experience, which is housed at the Fort Collins Museum of Discovery Local History Archive.
In July 1917, Battery A was quartered in Camp Baldwin, Denver, under the command of Captain Roy G. Coffin. Battery A soldiers completed basic training with Battery B (from Denver) and Battery C (from Colorado Springs). Soldiers were taught basic drill orders, command structure, and military discipline. They were also tested to gauge their physical and mental fitness, as well as their proficiency with weapons.
This scrapbook page gives a glimpse of what it was like at Camp Baldwin. Images show the Battery A office, a man doing a handstand, the Battery C jazz band, and (presumably) a medical building (with the caption "Now Cough," upper left-hand corner):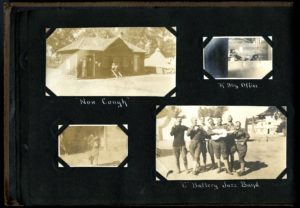 In September of 1917, Batteries A, B and C departed Denver for Camp Greene, North Carolina, arriving on October 2. Battery A traveled by train through Kansas to Memphis, where it paused long enough for the men to swim at the YMCA.  Their train must have stopped briefly at Ellis, Kansas, because a photograph of that town appears in Hurdle's album.
About Camp Greene, Battery C noted that Charlotte "girls were not a bit bashful and if a fellow didn't get acquainted it was his own fault."
Battery A's Cliff Robertson gave this report of Camp Greene, which was published in the Loveland Reporter on October 15, 1917.

And here's a look at Camp Greene from the FortWiki series.
In October 1917, the soldiers transferred to Camp Mills, New York. In the opinion of Battery C, Camp Mills was "dilapidated and forlorn," and a "disgrace" to the US government. A problem with drainage caused the camp to be covered with as much as 6 inches of water after a stout rainfall. The water flooded the tents, extinguished stoves, and caused pipes to freeze. Bathing was limited to sponge baths.
This page from Hurdle's scrapbook shows Battery Street in Camp Mills, with tents erected, or being erected, and a mysterious image upper right (is that a hat? a bird? an airplane?):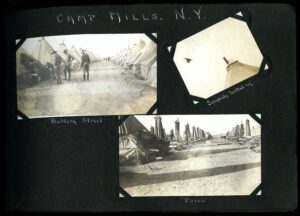 Here's a link to the FortWiki description of Camp Mills.
Soldiers sent letters and telegrams home, which were often published in local newspapers along with other news articles about the war. Just a few references are included at the end of this post.
Battery A would see one more stateside location (Camp Merritt, New Jersey; here's Camp Merritt's FortWiki description) before heading to the front. Our next Great War blog will delve into Battery A's journey across the Atlantic in January 1918 aboard the steamship S.S. Baltic.
A few mentions of Battery A published in local newspapers in 1917:
"Cliff Robertson Tells of Life at Camp Greene," Loveland Reporter, October 15, 1917, page 2.
"Battery A Ranks, Regiment and Men Enjoy the Smokes," The Weekly Courier, October 12, 1917, page 3.
"Battery A Enjoys Stop at Memphis, Tennessee," The Weekly Courier, October 5, 1917, page 4.
"Battery A is OK, at Camp Greene, North Carolina, Coffin Going Up," The Weekly Courier, October 12, 1917, page 7.