How do three different kinds of cake (chocolate, white, and spiced) served along "Pine Apple Sorbet" sound to you? Yummy!
Well, it probably tasted great to the 150 members of the Fort Collins Pioneer Association who attended the 3rd annual banquet of the association on February 4, 1909.
We have the program from that event here at the Local History Archive, pictured below: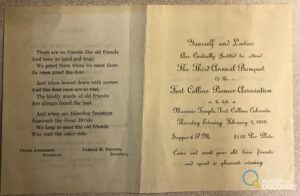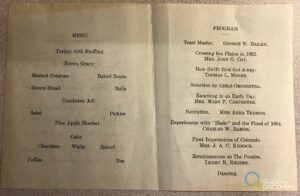 The menu sounds as intriguing as the lecture  program, which featured tales by Mrs. John Coy, Charles Ramer, and other early residents of Fort Collins. The event was summed up a few days later in the February 10, 1909 edition of the Fort Collins Weekly Courier:
"…they had laughed with each other till the tears came over the jokes and witticisms of the speakers and had absorbed with breathless interest the graphically told stories of early day adventures, dangers and privations met with and endured when the Cache la Poudre valley was a howling wilderness."
Read the entire article here!