Post written by Lesley Struc, Curator of the Archive.
Background in History!
Feeling the need to add a little historical zing to your online video meetings? Well, the Archive at Fort Collins Museum of Discovery has you covered. Feel free to download these images of Fort Collins' past and use them as your virtual backdrop during your next online meeting or chat; impress your friends and coworkers with your fervor for local history!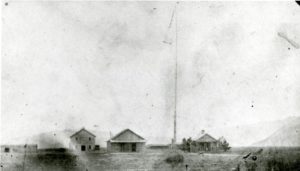 Welcome to Camp Collins, circa 1865, looking southwest from the Poudre River toward the fort's parade ground and buildings. This would have been near present-day Linden and Jefferson Streets. Download photo.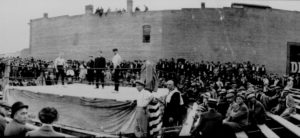 Fisticuffsmanship! Well, not exactly. This is wrestling match that took place circa 1908 on the east side of the 200 block of Mountain Avenue. All the people are looking at you, waiting for you to finish your meeting so they can start the bout. Download photo.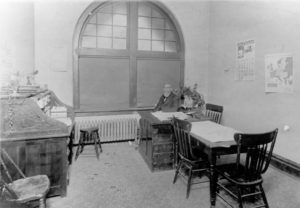 Meet your new officemate H.C. Lighter, Justice of the Peace for Larimer County, in his office at the Avery Block in Old Town, circa 1908. Download photo.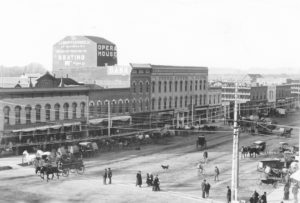 Your new office has a great view of the west side of North College Avenue, circa 1904. Download photo.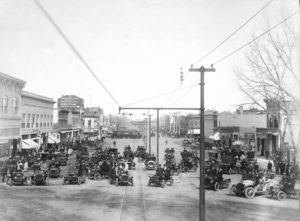 Now you're on top of a streetcar in 1908, looking down North College toward Mountain Avenue. Check out all the cars in Fort Collins at that time and what is believed to be the earliest photo of the trolley. Download photo.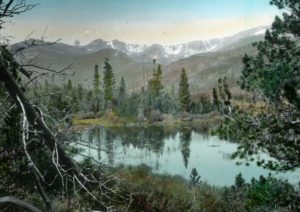 Finally, some color! Here's a view of Pingree Park from a hand-tinted lantern slide from the 1910s. Ahhh, so peaceful. Download photo.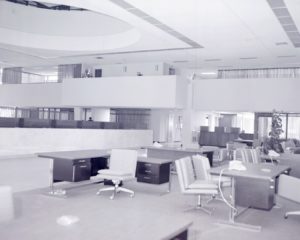 Nice office! Get things done here in the Poudre Valley Bank offices at 401 South College in 1967. This building is now home to Wells Fargo Bank. Download photo.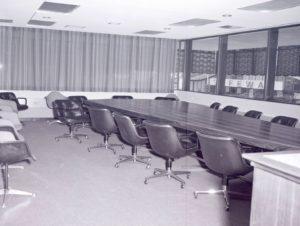 You can hold an important meeting in this stylish board room, also from the Poudre Valley Bank, 1967. Can you spy the Safeway out of the window? That building now houses Lucky's Market at 425 South College Avenue. Download photo.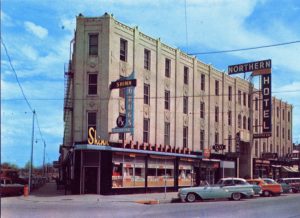 The Northern Hotel is looking bright and cheery in this postcard from 1958. Download photo.
Lounge around at the Safari Club, once located at 400 Link Lane in Fort Collins, where you could enjoy "Cocktails, Steaks, Prime Rib, Seafood and European Delicacies. Piano Lounge, Live Music, and Ballroom Dancing." This image is from a circa 1975 postcard. Download photo.
Voila! Now boring video meetings will be a thing of the past… literally! Check out even more awesome local history photo background options by visiting the Fort Collins History Connections website: history.fcgov.com.