Post written by  Goose Seifert, Music & Sound Lab Assistant.
Daily Discovery: Women Who Changed the Music Industry
Historically, women and their contributions to music have been very overlooked in the music industry. Let's take a look at a few women who molded various genres and eras with their music!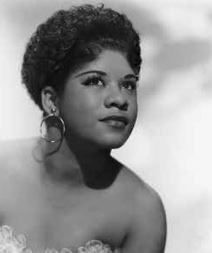 Ruth Brown
Ruth Brown is a singer, songwriter, and actress born in Portsmouth, Virginia in 1928. Ruth started singing in nightclubs and performing with Lucky Millinder's orchestra in 1945, taking a different path than her church choir director father, who did not want his daughter listening to "the devil's music." After a disc jockey saw Ruth play with Duke Ellington, he told the higher ups at Atlantic Records what talent he had seen. Not long after, Ruth suffered from a car crash and signed to Atlantic Records while in bed at the hospital! After recovering, she released her first song, "So Long" which reached #6 on the U.S. Billboard R&B chart. Following that in 1950, Ruth peaked the charts as #1 with the new release "Teardrops from my Eyes." After this, Ruth was acknowledged as the queen of R&B, as well as "Miss Rhythm." Her releases afterwards continued to top the R&B charts, and they stayed up there for a while. Because of Ruth's great success, she became a household name and was responsible for Atlantic being the foremost label of the genre.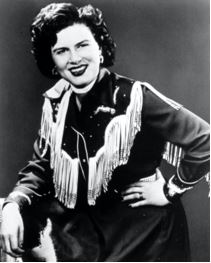 Patsy Cline
Patsy Cline was a country singer born in Winchester, Virginia in 1932. Patsy began performing on the local radio station at age 15, and in a local band occasionally appearing on country television channels. After performing "Walkin' After Midnight" on CBS's Arthur Godfrey's Talent Scouts, she had her first hit on country and pop charts, gaining national recognition. She began to work under Decca Records in 1960, which led to her first country billboard chart #1- "I Fall to Pieces" released in 1961. Next, she released "Crazy," which also became a huge hit. Patsy also performed regularly on the Grand Ole Opry country radio broadcasts in Nashville. As her success was rising, the country music industry competed with the rock and roll industry, adopting more pop elements to appeal to more mainstream audiences. Patsy, who favored traditional country, continued to dress in western clothing and include yodeling in her music, bridging traditional country music with modern pop successfully. Patsy's life ended suddenly in a plane crash in 1963, while she was 30 years old, however her legacy lives on, as she was the first woman inducted in the Country Music Hall of Fame, documentaries about her life have been produced, and her childhood home was turned into a museum.
Diana Ross
Diana Ross is a singer, actress, and record producer born in Detroit, Michigan in 1944. Her success emerged as lead vocalist of the Supremes, a vocal trio signed to Motown that quickly became the first U.S. group to have five songs in a row reach #1. The group went on to have 12 total chart toppers, the most billboard #1's that an American group had in history! Around 1969, Diana left The Supremes to start a solo career, and continued her success by reaching #1 with "Ain't No Mountain High Enough." Following that, she had three other tracks reach #1 in the 70's as she was also branching out and acting. In 1976, Billboard Magazine titled her as "Female Entertainer of the Century." Diana continued to release pop records in the 80's with a few more chart toppers, and returned to Motown for a couple records producing singles that gained international success. She sang lead on a top 75 hit for 33 consecutive years in the U.K. from 1964 to 1996. In 1993, she was declared the most successful female musician in history by the Guiness Book of World Records for her total of 70 hit singles in the Supremes and as a solo artist!
Suzi Quatro
Suzi Quatro is a musician and actress born into a musical family in Detroit, Michigan in 1950. Suzi was raised studying classical piano and percussion, and started a band with her older sister at age 14, fronting the band with vocals and bass. This band toured and released singles over a few years, until Suzi accepted a solo contract from producer Mickie Most. From there, Suzi worked with songwriters Chinn and Chapman to produce "Can the Can," which reached #1 in 1973 and sold 2.5 million copies. She continued to release hits and was featured in the British Charts for 101 weeks between 1973 and 1980. Suzi then expanded her career into acting where she played roles in TV series and then hosted her own talk show. Throughout the 90's, Suzi continued to release records, and began a radio career with BBC in 1999 that still continues today. In 2006, Suzi was nominated for broadcaster of the year at the Sony awards. While Suzi is successful in multiple areas of her career, she is widely recognized as the first female frontwoman to also play bass in rock and roll, paving the way for more female rock pioneers such as the Runaways and Tina Weymouth of the Talking Heads.
Follow along with our Daily Discovery! Click here for all activities that you can do at home.
Educational opportunities like this are supported in part by Bohemian.