Community Event, All Ages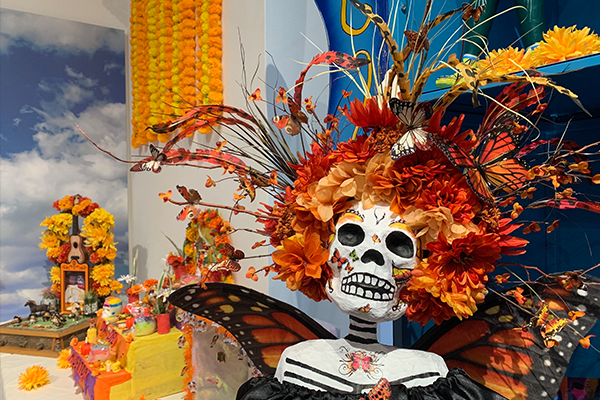 Celebración del Día de Muertos
Te invitamos a conmemorar el Día de Muertos en el Museo del Descubrimiento de Fort Collins.
El Día de Muertos es una celebración proveniente de México, en donde las familias y seres queridos se reúnen para honrar la memoria de sus difuntos, a quienes se les invita a regresar al mundo de los vivos para recordar, convivir, agradecer y celebrar, junto con el ofrecimiento de altares coloridos meticulosamente elaborados y llenos de memorias y significados. Los Aztecas honraban a sus muertos con rituales durante la temporada de cosecha, reconociendo a la muerte como el inicio de un nuevo ciclo, porque la muerte no representa una ausencia, sino una presencia viva. Hoy en día, esta conmemoración es una fusión de tradiciones, y se lleva a cabo desde el 31 de octubre hasta el 2 de noviembre de cada año.
Gratuita con la entrada general
Aprende más sobre otros eventos sucediendo en la comunidad en nocodiademuertos.org.
—————————————————————————————————————————————
In celebration of Día de Muertos, FCMoD is honored to welcome back mini altars created and shared by members of the community, in honor of those who are no longer physically with us.
Día de Muertos (Day of the Dead) is a celebration from Mexico, where families gather to commemorate their loved ones from October 31 until November 2, by creating meaningful altars thoughtfully decorated with memories and traditional elements, with the belief that souls return to visit from the land of the dead. The Aztec civilization honored their deceased ones with rituals during the harvest season, and they viewed death as a beginning of a new life or a new cycle, because death does not represent an absence, but a living presence.
Free with General Admission
Learn more about the 2023 community-wide celebration at nocodiademuertos.org.