Amazing Animals Lab
Available Tuesdays/Fridays
Age: Grade 1-4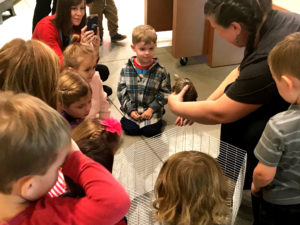 Program length: 60 minutes
Cost: $6 per student
Group size: Up to 30 students may participate. Chaperones are expected to attend to observe and help supervise.
Become a field biologist as nature becomes your laboratory. Meet the animals at the museum and create illustrations of what makes each animal unique! Your scientific illustrations will transform into a visual encyclopedia to inspire future conservationists!
Our Amazing Animals Lab begins with a live animal presentation where students come face to face with the live animals here at the museum. Next, we will travel throughout the museum to create scientific drawings of the animals we know and care about while discussing what we can do to protect these animals!
21st Century Skills Addressed:
Critical Thinking and Problem Solving
Creativity and Innovation
Leadership and Responsibility
Colorado Academic Standards Addressed:
Prepared Graduate Competency #6: Students can use the full range of science and engineering practices to make sense of natural phenomena and solve problems that require understanding how living systems interact with the biotic and abiotic environment.
1st Grade
Science 2.1: All organisms have external parts that they use to perform daily functions.
Science 2.2: Young organisms are very much, but not exactly, like their parents, and also resemble other organisms of the same kind.
2nd Grade
Science 2.2: A range of different organisms live in different places.
3rd Grade
Science 2.2: Being part of a group helps animals obtain food, defend themselves, and cope with changes.
4th Grade
Science 2.1: Organisms have both internal and external structure that serve various functions.