Events for March 24, 2022
Events Search and Views Navigation
4:00 pm
,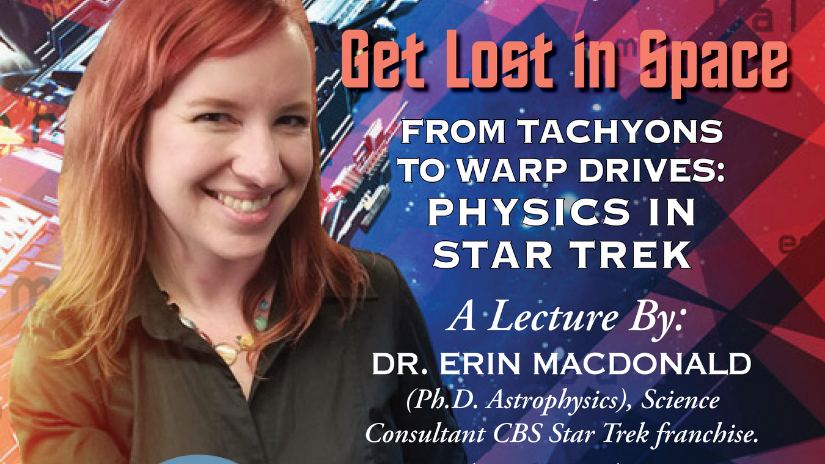 From Tachyons to Warp Drives: Physics in Star Trek
Join Dr. Erin Macdonald for her one-hour lecture, From Tachyons to Warp Drives: Physics in Star Trek, at the Fort Collins Museum of Discovery on Thursday, March 24, at 4:00 p.m. in The OtterBox Digital Dome Theater.
Reserve tickets to this terrific FREE event. Space is limited.
When Dr. Macdonald (who hails from Fort Collins) was finishing her Ph.D. in gravitational astrophysics at the University of Glasgow, she took a break from writing her dissertation and tried to work out how warp travel might work. As an expert in Einstein's relativity, she is perfectly suited to do so. While she hasn't totally worked out the problem, she has parlayed her interest in the science of Star Trek into a career as a science consultant – and thankfully, she's willing to share her expertise with Star Trek fans across the universe.
Dr. Macdonald is an astrophysicist, aerospace engineer, and science fiction consultant and is an internationally recognized space science expert, writer, speaker, and consultant.
Macdonald's lecture provides a rare opportunity to get answers from a professional who shares a passion for Trek technologies and brings her technical expertise to bear on it. She'll explain everything from transporters, cloaking devices, tricorders, and warp drives to tachyons, photon torpedoes, and Einstein's Theory of Relativity – all in plain language and concepts that even a Muggle can understand.
For more information, visit, please visit www.FCsymphony.org.
From Tachyons to Warp Drives: Physics in Star Trek is presented by The Fort Collins Museum of Discovery, the Fort Collins Symphony, The Lyric Cinema, and FoCo Comic Con.
+ Export Events