Music, Science, Teens, Adults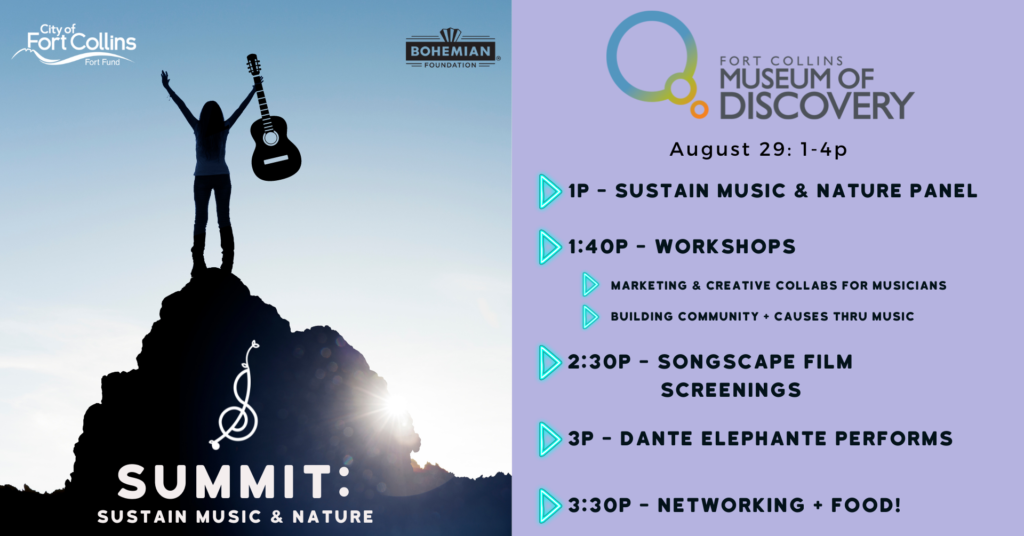 Summit Conference with Sustain Music and Nature
Celebrate music activism for the environment with the Summit Conference and Benefit Concert, presented by Sustain Music and Nature. Conference portion hosted at Fort Collins Museum of Discovery.
SCHEDULE
Conference Venue: Museum of Discovery
1-1:30p: Sustain Music & Nature Panel – What can music's role be in environmental activism?
1:40-2:20p: WORKSHOPS
Marketing and Collaborations for Musicians
How to Build Community and Support Causes through Music
2:30-3p: Film Screenings in the OtterBox Dome – Songscapes & Trail Sessions
3-4:15p: LA's Dante Elephante to perform on the roof, followed by appetizers and networking!
Concert Venue: Aggie Theater
6p: Doors Open – Silent Auction Items on Display
7p: Miguel Avina of iZCALLi
8p: Slow Caves
9p: Special Guests
Presented by Sustain Music and Nature. For more information, visit sustainmusicandnature.org/summit.