Theater, All Ages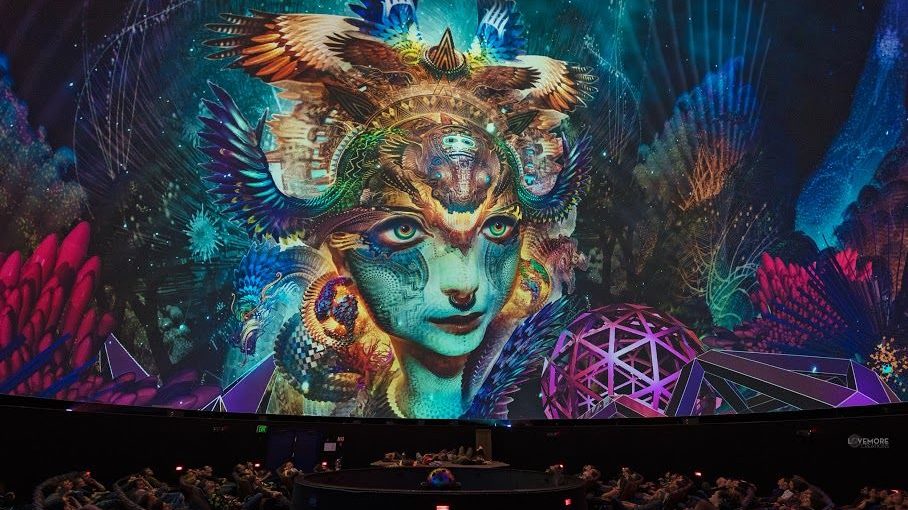 Dome Art Night: SAMSKARA
In conjunction with First Friday Art Walk, the OtterBox Digital Dome Theater at FCMoD will present 360° artwork from artists around the world!
This month, experience the fulldome artwork SAMSKARA, an ongoing project inspired by the amazing digital artwork of Android Jones and created in collaboration with 360ART. This piece is based on ancient Vedic tales and Sanskrit mantras. A journey through consciousness, beyond the mind, to discover the inner self, SAMSKARA takes the audience from creation, through evolution, corruption, conflict and destruction, to eventual rebirth and a path to enlightenment. Join us on the continuing spiritual journey.
Cash bar will be available.
$20/$18 for members. Pre-registration is recommended.
Event Schedule
Note: Your ticket is good for the showtime you select. However, the museum will also be open during the entire event so come by before and stick around after your showtime to explore!
Please click a showtime below to purchase tickets.
6:00pm – Museum doors open
6:15pm – 1st showtime
7:00pm – 2nd showtime
7:45pm – 3rd showtime – SOLD OUT
8:30pm – 4th showtime – SOLD OUT
9:15pm – 5th showtime – SOLD OUT
10:00pm – 6th showtime
11:00pm – Museum closes
About the Artist
Lyons, Colorado born Independent Artist Android Jones began studying art at age 8. He attended the Ringling School of Art and Design in Sarasota FL, where he trained in traditional academic drawing/painting and animation. Jones interned at George Lucas' Industrial Light and Magic and later founded Massive Black, an art development company based in LA. Android began his career as an Independent Artist in 2005. He now lives in his home town of Lyons, maintaining a large art studio in a repurposed barn.
Best described as a "digital painter," Jones has created an immense body of work. He has become well known for his many layered, psychedelic works and live performances using a custom built digital set up. He participated in the Grateful Dead Fare Thee Well Tour and his work has been projected on the Sydney Opera House and the Empire State Building. A long time member of the Burning Man community, Android has traveled the world exhibiting his work and has contributed to events on 6 continents.
At the center of Jones' work is spirituality and altered states of consciousness. Describing his work as Electro-Mineralism, Jones attributes his ability to create to the wonders of technology, crediting the planet's resources for advancements in art production. Manipulating light and energy, Android Jones captures complex concepts while utilizing his formal background in the arts. Described as a digital alchemist, he is determined to alter the viewer's perception, pushing the boundaries of the imagination through the use of innovative media forms.