Discovery Distilled at FCMoD
Discovery Distilled is a 21+, casual, after-hours series at Fort Collins Museum of Discovery.
Join us for the next one!
🍻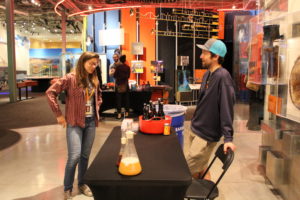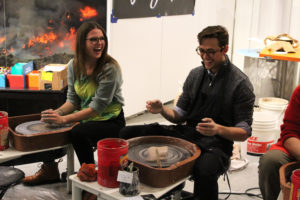 Beers & Bikes
What's more Fort Collins than beers and bikes? If these two words make you want to jump up in excitement, put that energy to good use and bike over for Discovery Distilled – Beers & Bikes! Learn what makes your favorite beer taste so good or why a stout is different than an IPA. And in between tastings, chat with bike experts from around town.
Wine & Chocolate
Chemistry (and a little bit of love) is in the air! Join us on Saturday, Feb. 9 for our next Discovery Distilled: Wine & Chocolate. Chat with experts from local wineries and chocolatiers while you explore the museum. From the sweet and sexy, to the refined and risqué, explore the science and fun of all things tantalizing. Wine, chocolate, romance…what more could you ask for?
Science of Spirits
What do Spirits (alcohol) and Spirits (ghosts) have in common? More than you might think! Spirituous liquors and otherworldly realms collide during an evening of sips and specters! Discover the fine points of distilling spirituous libations with experts from local distilleries like CopperMuse, NOCO Distillery Feisty Spirits and Old Town Distilling, then delve into worlds unknown with special guests including psychic medium Sarina Baptista, Fort Collins Tours, the 970 Paranormal Group, the local Ghostbusters, and more!
The Science of Heroes & Villains
Do heroes and villains really have powers beyond us mortals, or are they just more resourceful than the rest of us? Experience superpowers in VR with HP, Inc., launch yourself onto a Velcro wall (à la Spider Man), and cook up trouble in our Villain's lair.  With some advanced physics and some great gear, perhaps you too could be superhuman. But… will you choose to use your powers for good or evil?
Come drink some beers, learn something new, and explore what your museum has to offer!