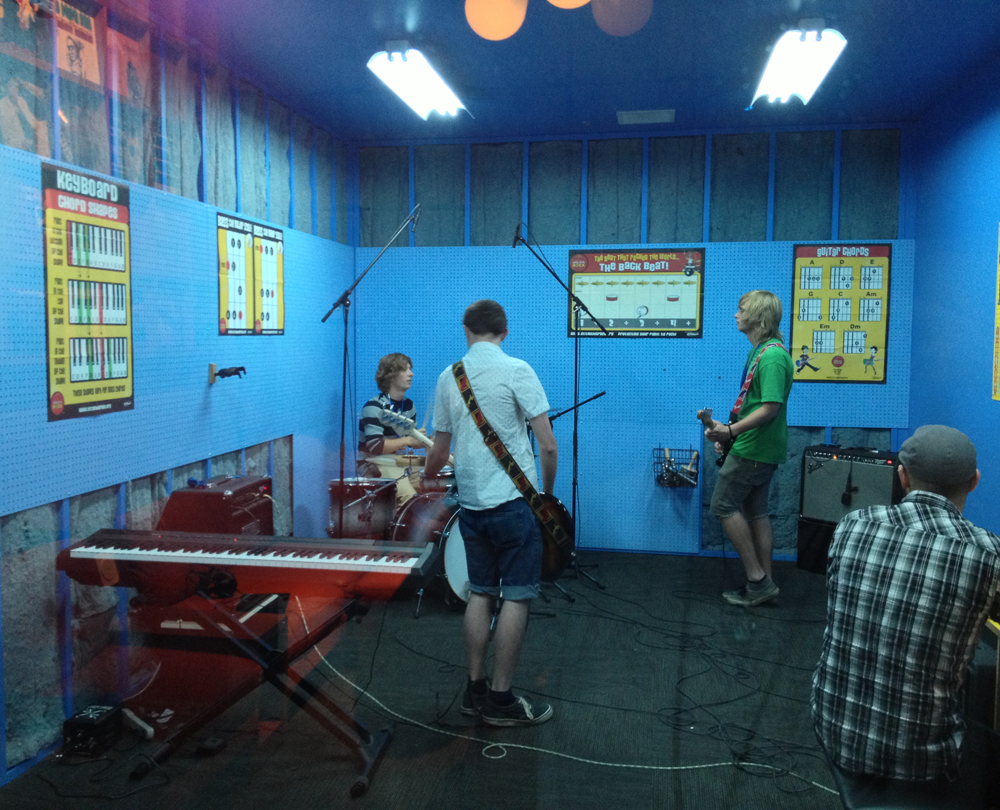 The Music Garage at FCMoD is a place where you can experiment, learn, play, and have fun making your own music! A variety of instruments and experiences are available.
Please check the Calendar to see what's going on in the Garage for your visit.
Free Jam
Stop by the Music Garage and rock out! Jam with a friend or two and try your chops out on a variety of instruments. Museum staff will be there to help you out…but please, don't play Free Bird.
Reactable: REMIX!
Wanna master the super-cool Reactable? Drop by the Reactable Room in the Music & Sound Lab for expert guidance, and see if you can get the club jumpin'.
Garage Studio
Book our Music Garage for a recording session! Bring your band, use our gear, and lay down one of your tracks with our sound equipment. When all is said and done, you'll have a recording of your song to share with your fans. Pre-registration required. For more information or to book the Garage, email music@fcmod.org.
DIY Music Lab
Using everyday household items, you can rock out like a star! Duct-tape guitar straps, popsicle stick harmonicas, cardboard iPod speakers…what will we make next? A different project each month!
Reactable 2.0
Have you mastered Reactable: REMIX? Ready for the next level? Discover the advanced side of the Reactable, with all-new sound blocks and DJ software to experiment with. Show off your
mad skillz!.