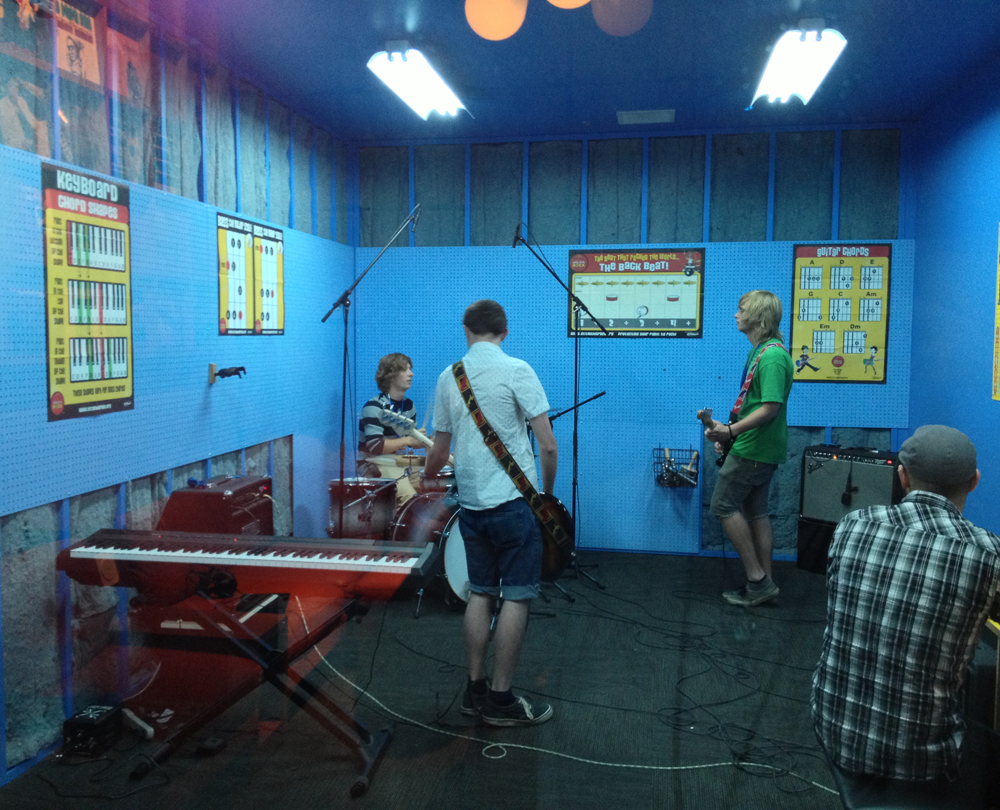 The Music Garage at FCMoD is a place where you can experiment, learn, play, and have fun making your own music! A variety of instruments and experiences are available.
Please check the Calendar to see what's going on in the Garage for your visit.
Free Jam
Stop by the Music Garage and rock out! Jam with a friend or two and try your chops out on a variety of instruments. Museum staff will be there to help you out…but please, don't play Free Bird.
Discover Music!
Dubstep? Klezmer? Besides having fun names, they're also cool musical genres. Stop by and discover a different genre of music each session, and broaden your musical horizons.  And who knows: you might find a new appreciation for psychedelic jamgrass music!
Garage Studio
Book our Music Garage for a recording session! Bring your band, use our gear, and lay down one of your tracks with our sound equipment. When all is said and done, you'll have a recording of your song to share with your fans. Pre-registration required. For more information or to book the Garage, email music@fcmod.org.
Guitar Tips and Tune-ups
Dust off that old guitar and get it back in playing condition! Stop by the Music Garage for expert guidance from the Museum's music experts, and pick up a few musical tips along the way. And for the sake of your family and friends, tune that puppy up while you're here, too.
Sure, Mix-a-Lot
Learn the ins & outs of mixing music from the experts! From EQ techniques to digital mastering, the way you mix music is just as important as how you play it. Pre-registration required. Must have completed a Garage Studio session, or bring your own tracks to mix. For more information or to sign-up, email music@fcmod.org.