Shop with Wonder!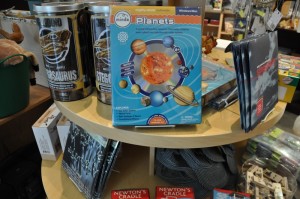 The Cache at FCMoD carries a unique array of fun, educational, and mission-related products ranging from dream catchers and dinosaur replicas to gyroscopes and maracas.
We offer:
Space Pens
Weaving Looms
Bees
Bonnets
Newton's Cradles
Local History Books
Optical Theremins
Pet Tornadoes
Rain Sticks
Teacups
Kaleidoscopes
Opera Glasses
Solar System Models
Slates and Slate Pencils
McGuffey's Readers
Puppets
Gold Panning Kits
Electronics Kits
Solar Powered Trains
And More!
All proceeds from your museum store purchase benefit the Fort Collins Museum of Discovery.
Store Hours
Tuesday through Sunday, 10:00 am to 5:00 pm.
The museum is closed on New Year's Day, Christmas Day, and Thanksgiving Day.
For additional information, please call 970-221-6738 or email Amy Scott.